Evolution 61
27 Aug 2019
Amalie Arena, Tampa, Florida (seats 20,500)
Jim Gunt: Welcome ladies and gentlemen to the Amalie Arena in Tampa, Florida, for Evolution sixty one!
Mike Rolash: Helluva card on the lineup here tonight, as we have five second week Alpha Block matches!
Jim Gunt: But first, Ray is in the ring ready to bring out six superstars, some new some wily veterans, for one wild six man tag!
Ray Douglas: The following is tonight's opening bout, a six man tag scheduled for one fall with no time limit!
Mike Rolash: No time limit!? But the tournament has one? Who makes the freakin' rules up around here?
Jim Gunt: Jaiden…
Mike Rolash: Well in that case, great decision!
"Clozee-Koto" hits and Pandalike comes out to a decent response of mostly cheers. The CWF veteran looks like he may have lost a step in recent days, but is still enjoying the response from the crowd as he waves to them coming down the ramp.
Ray Douglas: Introducing first, from London, England….PANDALIKE!!
Jim Gunt: The Panda King may have gotten booted from the Alpha and Omega Tournament, but he'll be looking to redeem himself here tonight!
Mike Rolash: Pandy would've been better off not even showing up.
Jim Gunt: Why do you insist on being so disrespectful every week?
Mike Rolash: It's just what I get paid to do, Jimbo.
"Survival of the Sickest" starts to play as the crowd starts to rave. A spotlight shines down on the stage showing Sean Fuller standing there in a long trench coat with his arms held out and lifted slightly upwards with his wife Celeste Fuller close by. The lights lift as Sean makes his way to the ring, pulling off his sunglasses and tucking them into one of his inside jacket pockets.
Sean walks around the ring once before jumping up and lands his right-shin on the apron and eventually pulls himself up to his feet after taking a moment to stare out at the crowd of fans cheering and raving for him. Sean steps over the middle rope and chooses one of the four random corners to sit down and chill out while awaiting his final partner to arrive.
Ray Douglas: And his partner, from unknown….SEAN FULLER!!
Jim Gunt: Another man from the land of unknown, Fuller should fit right in with this next man then.
Mike Rolash: Who's that, Jim?
The lights flicker as we hear this over the PA System...
"AHAHAHAHHAHAHAHAHHAHA"
Mike Rolash: AHH!! God damn it!
"Dangerous Tonight" by Alice Cooper starts to play as Ataxia enters the arena wearing his cloak of raven feathers, tophat, cane, and raven mask over his usual bag like mask. Ataxia spins the cane around, not paying the mostly jeering fans any mind as he walks down the ringside area. He leaps into the ring and whips off the cloak. He takes off the mask, hat and cane. A ring attendant grabs them as Ataxia waits for his opponents not conversing with either of his partners at all.
Ray Douglas: And their partner, from unknown, the Messiah Pariah….ATAXIA!!
The arena lights begin flashing as the stage lights up.The CWF fans stand up and watch the stage as Joseph Svenson makes his way out and walks directly towards the ring. Reaching ringside, Joseph Svenson makes his way up the staircase then climbs through the ropes. Moments after entering the ring, he makes his way over to the near corner and begins to stretch for his match.
Ray Douglas: And their opponents, first from Virginia Beach, Virginia….JOSEPH SVENSON!!
Jim Gunt: Another newcomer looking to make a big stamp in this one, Mike. Word has it that Joseph Svenson already impressed enough that he may be finding himself becoming a stand in in the Alpha and Omega tournament following this week's action.
Mike Rolash: ...Where do you always hear these things?
Jim Gunt: Well, Mike, if you'd take the time to read your notes…
The arena lights go off as "Bastard Samurai" starts to play while the rampway fills with purple smoke. The crowd waits before the drums kick in, and out enters Kyuseishu under a single white spotlight. Behind him march 11 red suited kabuki masked wearing disciples. Kyuseishu's jet black hair pulled back in a bun in is in the all to familiar traditional samurai hair style, and wearing a men's blue and black Kimono he raises his arms in a pose of the cross. He soaks in the jeers from crowd before clapping his hands together and bowing towards the ring. The battle is upon him as he slowly walks to the ring hands out and palms up looking to the skies focused only on his battle. Kyuseishu says a small prayer before entering the ring removing his Kimono and mask showing off his powerful body as he looks with one eye through a triangle formed by his hands.
Ray Douglas: And their partner, from Nishi-Shinjuku, Tokyo, Japan, the Social Justice Samurai….KYUSEISHU!!
"Something Got Me Started" by Simply Red begins to play over the sound system as the lights dim to a midnight hue and fog fills the stage. Silas Artoria emerges from backstage, followed closely by his mentor Hidetaka Ito. Artoria pauses for a moment halfway down the ramp to drink in the reaction from the crowd. Artoria shrugs off his jacket and hands it to Ito, who folds it over his arms as his young protege slides into the ring beneath the bottom rope. Artoria immediately makes eye contact with Kyuseishu, neither man backing down from each other as Clark Summits quickly comes between them, reminding them they are partners here tonight.
Ray Douglas: And their partner, from Toronto, Canada, he is the Psychotic Aristocrat….SILAS ARTORIA!!
The Tampa, Florida fans show their excitement for tonight's action, clapping already as both teams of three discuss who will start the match off in the ring. Summits calls for the bell as soon as Silas Artoria and Sean Fuller enter the ring following Artoria getting in a small squabble with Kyuseishu, the Samurai finally succumbing and waving his hands at him as he goes out to the apron.
Jim Gunt: By the looks of it, it's going to be a struggle for Silas Artoria and Kyuseishu to get along long enough to be a strong team here tonight.
Mike Rolash: Artoria needs to know his place and sit at the side Kyu. The man is the second coming of Christ for god's sakes!
Jim Gunt: The second coming of...haha, do you know how stupid that sounded?
Mike Rolash: You sound stupid!
Circling each other, Artoria reaches his hands in the air tempting Fuller with a test of strength, but this isn't Sean Fuller's first rodeo either, the veteran of his own pulling in the hand of Artoria yanking him right into a headlock. Silas attempts to push him off of him into the ropes but instead No Gimmicks Needed Fuller blasts him with a hard knee upward right into the face. Following a DDT to Artoria, he brings him over to his corner and tags in Ataxia. The wild Messiah Pariah leaps over the top rope, catching the rising Artoria with a springboard spinning headscissors on the way down.
Jim Gunt: Silas Artoria taking some major hits in the early going of this match.
Mike Rolash: He's going to have to suck it up and tag out to Kyuseishu!
Ataxia lifts Silas up from behind, going for the ER Stat german suplex into the turnbuckle, but Artoria delivers a back elbow that stops him in his tracks. Knowing this could be his perfect opportunity to get rest, Artoria quickly moves towards his team's corner. Artoria tags out to Joseph Svenson, angering Kyuseishu who just stomps on the apron outside, watching on as Svenson enters the ring and ducks under a clothesline attempt from Ataxia. He springs off the ropes as the Messiah Pariah turns around.
Jim Gunt: Running Bicycle Kick from Svenson! This guy is impressive!
Mike Rolash: We've seen that move done before, Jim…
Jim Gunt: If you're referring to Silas' Knockout, that's a Bicycle Knee, Mike…
Mike Rolash: Huh? Same difference.
Svenson lifts Ataxia up on his shoulders horizontally, shaking his body violently up and down in a Torture Rack. The Messiah Pariah is able to pop out of the hold though, landing behind Joseph Svenson and latching onto him to throw him into the corner with the ER Stat! He tags back out to Sean Fuller, who enters the ring, hits Svenson with a chop block, and then carries him out of the corner with a Sambo Suplex. Fuller drops down to make the cover.
ONE!
TWO!
Kyuseishu comes in to break up the pinfall, stomping down on Sean Fuller, and then Joseph Svenson, telling him he should have stayed out on the apron and let him tag into the match. Artoria watches on with a dropped jaw from the apron, until he sees Ataxia re-entering the ring and attacking Kyuseishu, and then Pandalike entering, all hell breaking loose! Artoria enters, Clark Summits backing up with his hands in the air at this point, all six of the competitors battling it out at the same time.
Jim Gunt: Things are getting out of hand here, Mike. Summits may have to call for the bell!
Mike Rolash: Don't be such a pussy, Jimbo.
Kyuseishu and Ataxia trade right hands with each other, neither man getting the immediate advantage as Silas comes over and clotheslines both of them over the top rope! The Psychotic Aristocrat follows them to the outside, but Panda instead goes onto the apron and tags a rising Sean Fuller from behind, tagging himself into the match! Fuller goes to question him as he enters the ring but is grabbed by Joseph Svenson, who tosses him up over the top rope onto the three competitors outside with a massive Fireman's Carry Slam! Svenson turns around, Paw Print strikes by Pandy!
Jim Gunt: Paw Print palm strikes! That is the old Pandalike we've all grown to love!
Mike Rolash: But Svenson grabs his arms, Standing Tiger Bomb!
Jim Gunt: He calls that No Filler! And here comes his trademark running knee strike...One Shot, One Kill! And I think he did just that to poor Pandy!
With all the competitors down outside, Svenson goes for the cover on Pandalike.
ONE!
TWO!
THREE!
Ray Douglas: And the winner of this match by pinfall, the team of….KYUSEISHU, SILAS ARTORIA, and...JOSEPH SVENSON!!
Jim Gunt: Great win there for Kyuseishu and Silas Artoria despite neither one of them being able to get along here tonight, but an even more impressive victory for their partner Joseph Svenson here in his CWF debut.
Mike Rolash: I see big things for this Svenson, and some concussion check-ups coming for Pandalike!

Jim Gunt: Incredible action there in that six man! But before we get to the main card tonight, we're going to take a look at the current standings, and joining Mike and myself on the desk, is our very own Church and State!
Charles State: Thanks for having us!
Jim Gunt: So tell us, what are the current standings?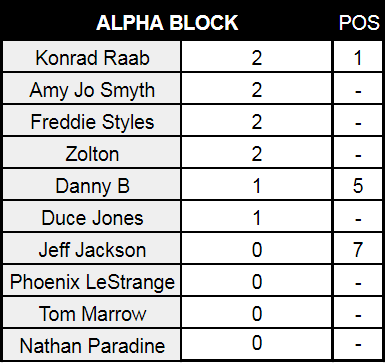 Blake Church: Well Jim, at the moment it is still too close to call, but already there's the possibility that it's going to be a close tournament for some of the CWF heavyweights on the bracket!
Mike Rolash: Explain.
Charles State: The presumed favourites for the tournament, Styles, Jones, Danny B, and Paradine have been in the company for a long time, they know multiple styles from the back of their hand, and they know how to counter them. And look what happened! Styles is ahead with a convincing victory but Paradine has suffered an upset loss to Zolton!
Jim Gunt: How is this an upset?
Blake Church: Simply because Zolton is new to the CWF, and for him to defeat Paradine in the first week when everyone is energised and fresh must've surely sent some shockwaves through the Alpha Block locker room.
Charles State: That defeat has changed his odds, and I truly believe that Zolton is the black horse, and as such, he's the competitor we and the others in Alpha are going to have to keep an eye on.
Mike Rolash: What about Amy Jo Smyth? She's taking on Duce tonight in the main event, how much of a chance could she have?
Blake Church: We've run the numbers, and it's safe to say that it's going to be a touch call. I'll go as far to say that we could have another draw on our hands, which would be more bad news for Jones than it'll be for Smyth. She's daring, ambitious, and everything in between, so personally I'm going to put my money on Smyth.
Jim Gunt: Finally, we've got a new contender in Alpha by the name of Phoenix LeStrange. Coming in at a disadvantage, do you think she can make an impact in the brackets?
Charles State: In this tournament, it isn't about wins or losses as much as whom you win or lose to. You could be at the very bottom of the table come the end of the tournament, but if you clawed a victory from someone whom would end up winning one of the two belts, you have a valid claim to a title shot! Still, if LeStrange can make it to the top 4, that will be one hell of an achievement considering the disadvantage.
Blade Church: This is a tough tournament, but it's going to determine whom we need to pay attention to going forward.
Jim Gunt: Thank you for coming gentlemen. We will see you next week for Omega Block, but now we go to the ring where we have Alpha Block action! Starting with Raab vs. Paradine!

Ray Douglas: The following contest is scheduled for one fall and is part of the Alpha Omega Tournament. Making his way to the ring, from Melbourne, Victoria, Australia and weighing in at 240lbs…The Australian Submission Machine, Nathan Paradine!
The opening riff to "Beat The Devil's Tattoo" by Black Rebel Motorcycle Club begins to blast around the arena as Nathan Paradine emerges from behind the curtain, the overhead lights reflecting off of his trademark sunglasses. He smirks as he surveys the crowd for a moment, thumbing the collar of his leather jacket before flicking his hands outwards and approaching the ring. He climbs the stairs and wipes his boots on the outside of the apron before stepping between the ropes. He observes the crowd once more before shrugging out of his jacket, passing it off to a stagehand and backing off into the corner to perform a few light warm ups before the bell rings.
Cold as Ice by M.O.P plays over the sound system as Konrad comes out through the curtain just wearing his blue and white mask with white hair along with his wrestling trousers with his nickname The Iceman on the front of them with Pit Bull Energy logos on the side of his trousers with black gloves on both of his hands with a side cross necklace on his neck with the blue and black yin-yang tattoo on his right shoulder, Iceman from X-Men tattoo on his back, Ice wolf on his left chest and ice bear on his right chest.
Ray Douglas: And his opponent, from Cologne, Germany and weighing in at 204lbs…The Iceman, Konrad Raab!
He then high fives the fans as he goes up the stairs before going in-between the ropes and does a holdup on each turnbuckle and everyone cheers him as he gets down from the turnbuckle and does a few boxing punches to the cameras before he looks at his opponent waiting for the match to start.
Jim Gunt: Konrad Raab is coming into this match with two points, while our resident athlete Nathan Paradine has yet to pick up any. Would that be the way you would have expected things to turn out heading into week two, Mike?
Mike Rolash: Not in the slightest. But we have a fresh new crowd here in this Alpha and Omega Era, Jim. Anything can happen, and may happen yet again here in this match.
The bell rings to mark the start of the match. Cautiously, both tournament contenders stalk the other around the outer edges of the ring. Each sizing up the other and waiting for a moment, the Iceman still clearly favours his injured and strained ribs.
Jim Gunt: Those injuries may very well be a deciding factor in this contest.
Mike Rolash: And frankly, with no points on the board, Nathan needs to seize any advantage to garner himself a win. Otherwise its goodbye Paradine.
The two opponents meet in the centre of the ring to lock up, but the wily Konrad knows in his condition such a tactic would be unwise, his lunge forward in reality is a fake-out, as he swings himself around and behind the Australian Submission Machine. A European uppercut to the back of the head, courtesy of the Iceman has the Australian Nomad stumbling forward, falling prey to a follow up dropkick to the back.
Jim Gunt: Konrad looking to remove the weight and power advantage from the game by using speed and agility to take Paradine down to the mat, where all men and women are equal.
Mike Rolash: Probably not the greatest strategy as Paradine lives and breathes the mat game. I mean it's in his frigging name. Australian Submission Machine!
Konrad grabs his fallen opponent's legs, looking to set up a boston crab, but the abled-bodied Australian ring veteran surges forward to get a hold of the ring ropes, forcing referee Trent Robbins, to break the attempted submission. The Iceman backs away, but only as a means to gain some room to charge forward to press the attack.
Nathan ducks down, throwing Konrad over his shoulder and the ring ropes, however the Nomad doesn't notice Konrad correct himself with perfect balance, maintaining his footing out on the apron. The Iceman springs off of the ring ropes for a springboard flying clothesline.
The Australian Submission Machine picks his opponent from mid-air, catching him with the ever impressive Paraplex, a high-impact and aptly named Exploder Suplex. The ring is still shaking from the impact as Nathan drops down to hook the leg.
ONE!
TWO!
TH-Konrad kicks out!
Jim Gunt: Near fall!
Paradine doesn't cede his advantage, first kicking his opponent full force in the chest with a running strike, then lifting him up to connect with a twisting brainbuster and once more dropping down to hook the leg and attempt another pin.
ONE!
TWO!
Thr-The Iceman rolls his shoulder off the mat.
Jim Gunt: Raab out again, Paradine can't get it done!
The Australian Submission Machine remains dogged in his offense, looking to punish Konrad's tenacious fortitude and bring the match to an end with the Mark of Judas. In the blink of an eye, the Iceman takes his opponent by surprise taking him down to the mat with a sudden and shocking roll-up pin.
ONE!
TWO!
Thr-Nathan breaks out just in the nick of time. His expression is one of pure shock.
Leaping up, Konrad executes a lightning fast hurricanrana as Nathan advances once more. Off balance, Paradine struggles to maintain a defence. Emboldened the Iceman throws his opponent into the ropes, then quickly steps up onto the second rope of a nearby corner. As the Nomad bounces back against the ropes, Konrad leaps straight into him like a bullet with a diving spear, quickly hooking a leg for the pin.
ONE!
TWO!
Nathan Paradine kicks outs!
Jim Gunt: What an incredible match-up between these two athletes! This is why the Alpha and Omega tournament is the ahem...ALPHA tournament in all of wrestling.
Mike Rolash: And you say I don't make sense...
Ray Douglas: TEN MINUTES HAVE ELAPSED! TWENTY MINUTES REMAINING!
The impact seems to have also jarred the injured ribs of Konrad, who loses previous moments, favouring his sides and slowing his pace to catch his breath. He sees his opponent begin to stir and realises the longer the match goes on, the more it favours Paradine. He has to end it now. Konrad summons up his strength and charges towards the ropes, flipping forward as he bounces back for the match-ending Ice Storm.
The delay proves too costly as Paradine regains his senses in time to catch Konrad by surprise on the rebound, first connecting with a german suplex. The Australian Submission Machine keeps his grasp locked firmly on the Iceman, hoisting him up once again to force Konrad ribs first down onto a knee with a rib-breaker. He then drops down, gogoplata chokehold is sunk in on Konrad Raab. He tries to fight out, but Paradine will not give!
Jim Gunt: Mark of Judas! One of deadliest submission holds in all of the game, and Raab is forced to tap out!
Mike Rolash: Damn, I guess Nathan is able to pick up his first two points after all!
Ray Douglas: The winner by submission and picking up two points in the Alpha and Omega Tournament....NATHAN PARADINE!!
Ray Douglas: The following match is scheduled for one fall, with a thirty minute time limit! Introducing first...
"Power is Power" by SZA and The Weeknd begins to play as the lights go down, and all you see is a silhouette of a man, bouncing side to side as the bridge hits...

"Heavy is the crown
Only for the weak..."

As the song moves into the verse, Freddie steps out from behind the curtain as he just stands there in his hooded vest, hood over his head, bouncing from side to side, before making his slow walk towards the ring.
Ray Douglas: Hailing from Atlanta, Georgia and weighing in at two hundred and twenty three pounds... he is Mr. Ballgame... FREDDIE STYLES!!
Jim Gunt: Freddie Styles looking focused here tonight!
Mike Rolash: Last week he managed to pull out the win over Tom Marrow, but I think he's going to find Jeff Jackson to be a completely different kettle of fish.
Jim Gunt: What was that? Kettle of fish?
Mike Rolash: Yeah, it's an expression. I've been brushing up on my vocabulary lately.
Jim Gunt: Will wonders never cease...
Freddie slowly walks up the ring steps, and steps through the ropes. He then stands on the middle rope, holding one arm above him, before stepping down, and leaning over in a corner. He takes the hood from off his head, then takes the vest off completely, tossing it to the floor before backing away into the corner to await the start of the match.
As the opening riff of Lynyrd Skynyrd's 'Still Unbroken' begins, the lights dim. When the main riff takes over, the lights power back on in time with the change. They reveal 'The Killer' Jeff Jackson standing at the top of the entrance way, arms outstretched in a T shape. As this happens, he let's out a guttural scream and the crowd goes wild. As he scans the crowd for a few seconds and begins to walk with a purpose to the ring, the lyrics kick in.
"Broken bones, broken hearts, stripped down and torn apart. A little bit of rust, I'm still running. Counting miles, counting tears, twisting roads, shifting gears. Year after year, it's all or nothing!"
Ray Douglas: And introducing the opponent... hailing from Halifax, Nova Scotia, Canada and weighing in at two hundred and thirty five pounds... he is The Killer, JEFF JACKSON!
As the chorus begins, Jeff hits his pose and scream again mid ring.

"But I'm not home, I'm not lost, still holding on to what I got. Ain't much left, Lord there's so much that's been stolen! I guess I've lost everything I've had, but I'm not dead, at least not yet. Still alone, still alive, still unbroken. I'm still alone, still alive, I'm still unbroken!"
Jim Gunt: Jeff Jackson had a rough go of it last week against Konrad Raab, he'll have to be ready to do whatever it takes in order to recoup his loss if he wants to get ahead in the Alpha and Omega tournament.
Mike Rolash: Freddie Styles already has two points, does he really need any more?
Jim Gunt: Well you know what they say, to win is the aim of the game.
During the rest of the chorus, Jeff stands facing the hard camera and rocks out to the music, mouthing the words of the last line in particular. The music fades as Jeff warms up in the corner opposite to Styles, eying off his opponent carefully.
Referee Big Denny Davidson performs a quick check of each competitor before calling for the bell, and this match is underway!
Styles and Jackson circle each other before trading blows in the middle of the ring, Jackson pushing Styles back into the ropes before whipping him across the ring and catching him with a shoulder block on the rebound. Styles bounces back to his feet quickly and delivers a forearm to Jackson's head for his trouble which Jackson quickly returns in kind. Both men remain in the middle of the ring trading blows back and forth to cheers from the crowd before Styles ducks underneath a shot and kicks Jackson's knee out from beneath him before hitting a step-up enziguiri. Styles goes for the early pin!
Jim Gunt: Freddie Styles looking to end this one early!
Mike Rolash: Overconfidence isn't a virtue. I think everyone here knows that it'll take more than that to put Jeff Jackson down.
Jackson throws up his shoulder almost immediately and both men rise back to their feet. Styles is up first and he runs at the ropes again, jumping to the second rope and hitting a picture-perfect moonsault... but Jackson catches him! Jackson slams Styles to the mat! The crowd jeers as Jackson applies an armlock to his opponent, wrenches Styles' shoulder ferociously before Styles manages to get his foot up onto the ropes. Denny Davidson orders Jackson to relinquish the hold and he does so begrudgingly. Jackson stands up and stomps Styles back down onto the mat before attempting to reapply his armlock but Styles evades and slides out of the ring underneath the bottom rope!
Jim Gunt: Freddie Styles wisely takes a moment to get some breathing space in this match.
Mike Rolash: Is it wisdom... or cowardice?
Jackson pursues Styles to the outside of the ring but Styles goes straight on the offensive, delivering a series of kicks to Jackson before whipping him over the steel stairs and sending him tumbling out of view. Styles carefully eyes up Jackson as he rises to his feet before running forwards... Styles vaults off the steel stairs and HITS A TORNADO DDT! Styles drives Jackson's head into the floor outside the ring! Styles wastes no time in throwing Jackson back into the ring, following closely behind and dropping himself over Jackson for another pin attempt!
ONE!
TWO!!
Kickout!
Denny Davidson holds up two fingers and Styles rolls away from Jackson, contemplating his strategy going forward in this match as Jackson begins to stir. Both men climb to their feet and lock up unsteadily, with Jackson coming out on top of the struggle and driving his elbow into Styles' face. Jackson wraps his arms around Styles and delivers a vicious belly-to-belly suplex before jumping to the second rope and dropping his elbow over the throat of Freddie Styles! Styles writhes in pain before rolling to his hands and knees and Jackson strikes, seizing his leg and applying an ankle lock! Styles roars in agony and pounds the mat before desperately trying to reach the ropes.
Jim Gunt: Jeff Jackson might have him here!
Mike Rolash: Snap his damn ankle!
Jackson drags Styles back into the middle of the ring, stealing away any hope of a rope break. Styles covers his head before holding out his arm, threatening to tap. Jackson screams at him to give up before Styles suddenly twists his body onto his back and curls up before kicking Jackson away with his free leg. Jackson takes a step or two back and releases the ankle and Styles rolls gingerly to his feet. Styles hops on one leg before Jackson suddenly charges and hits a knee trembler! Styles is back down and Jackson jumps back onto the second rope, jumping through the air and hitting a second rope legdrop on Styles' knee!
Jim Gunt: This is a repeat of the strategy Jackson used last week on Konrad Raab. It didn't work out quite so well for this there, but maybe the second time will be the charm?
Mike Rolash: Hah, have you been expanding your vocabulary too?
Ray Douglas: TEN MINUTES HAVE ELAPSED! TWENTY MINUTES REMAIN!
Styles clutches at his leg as Denny Davidson checks on him before signalling that the match will continue. Jackson eyes off his opponent before climbing to the top rope, making his trademark T pose before jumping into the air looking to hit The Overdose... BUT STYLES ROLLS AWAY! Jackson crashes and burns as Styles rolls to his feet, suddenly spry and nimble.
Jim Gunt: What?! He was faking an injury to his leg?
Mike Rolash: I don't think anyone can fake the effect of an ankle lock and that legdrop. Injured? Perhaps not. But he'll definitely be feeling the effects of those attacks later tonight.
In the ring Styles gestures for Jackson to get to his feet, sizing him up as Jackson uses the ropes to hoist himself up and then stagger unsteadily into the middle of the ring. Styles steps forward and launches himself into the air, BALLGAME! Styles connects, Jackson is down and Styles hooks the leg!
ONE!
TWO!
THREE!
"Power is Power" resumes playing as Freddie Styles rolls away from Jackson and out of the ring to celebrate his victory. In the ring Jackson is just beginning to stir, an expression of anger on his face as he realizes that the match is over.
Ray Douglas: Here is your winner, via pinfall and picking up two points in the Alpha and Omega Tournament... FREDDIE STYLES!
Jim Gunt: And Freddie Styles moves to four points now, making him a clear frontrunner in the tournament at this point, but at what cost?
Mike Rolash: Ah, who cares! This is a shot at the CWF World Championship he's fighting for, remember! An opportunity like that is worth playing a little bit dirty for.
Styles backs up the ramp with his arms raised to a mixture of cheers and boos from the crowd, treating his "injured" leg with care. He pauses at the top of the ramp to look back out over the crowd before the scene cuts to the next segment.
Freddie Styles pushes through the entrance curtain, gingerly walking after a hard fought victory over "The Killer" Jeff Jackson. CWF's resident backstage interviewer Tara Robinson comes into the scene with a smile on her face, ready to interview Mr. Ballgame, but the CEO quickly interrupts the scene. Jaiden Rishel walks in with a coy smirk on his face, his trademark suit on and his right hand over his chin, nodding as if he's impressed with Styles.
Freddie Styles: Excuse me, "boss", I think the lady was tryin' to interview your boy.
Jaiden lowers his hand from his chin, coming in between Tara Robinson and Freddie, Robinson backing up with her hands in the air as Rishel goes gets right into the face of the CWF Hall of Famer. Styles doesn't back down whatsoever though, flinching his face out of hatred of the boss.
Jaiden Rishel: Excuse you, is right...excuse you for speaking to your boss in such a tone when all I came here to do is wish you good luck in the rest of the Alpha and Omega Tournament. Look Freddie, it was me who brought you back from your lowly referee role. It was me who brought you into this tournament and now look! You've made yourself a perennial favorite already, coming out of your first two matches with incredibly solid victories. Freddie, I'm only here to say that a coupl'a weeks ago I made the wrong decision...
Still in the face of the CWF CEO, Freddie answers him.
Freddie Styles: And what's that?
Smirk from Jaiden as he thinks he has Styles where he wants him.
Jaiden Rishel: You see at Evolution fifty nine, my entire world fell out from under me. You saw it just as well as the millions of fans at home did, several of our main event talent walked out on the company and not only haven't came back, they've had me in court more days than not with lawsuits over some dumb shit. But when all that happened, we were able to evolve. We were able to start anew, and a new era was born...the Alpha and Omega Era. And in that era I named the wrong man as the front runner of that era, of the tournament that we're in the middle of. Duce Jones is a fool, someone who by now should now his place, but yet like everyone else slaps the face of the authority when they hand them nothing but golden opportu...
Freddie places a hand in the face of Jaiden, stopping him.
Freddie Styles: Oh would you shut the HELL up already!?
Jaiden is absolutely furious as Mr. Ballgame just smiles back.
Freddie Styles: You actually thought you could come back here and sweettalk me and get me to turn against the only man in the back that I could ever trust? That ever had my back? Man, fuck you. I don't care if you're my boss or not, I'm doing this thang for myself and I will be the last man standing come the end of Alpha and Omega.
Styles gets nose to nose to Jaiden.
Freddie Styles: BALLGAME!
Styles walks confidently away from the scene as an angry Jaiden Rishel is dumbfounded and furious.
Ray Douglas: The following is an Alpha Block Match, scheduled for one fall under a thirty minute time limit! Introducing first….
Red and Blue lights begin flashing with sirens going off. The theme song from Cops begins to play, as the Game Warden makes her way to the ramp. She is holding a leash with Benji on the other side. After whipping Benji once, he comes up to two legs, staring straight through his BDSM mask as he walks straight to the ring.
Ray Douglas: First, from Florida, Ohio, he is….TOM MARROW!!
Jim Gunt: Tom Marrow is looking to pick up his first of two points here tonight, after falling just short after looking at what a lot of internet critics have said his very best last week against Freddie Styles.
Mike Rolash: He was trying to be something he's not, Jim. Benji has always been a fun loving guy, and if Amanda keeps pushing him to be a monster...he's eventually going to snap!
A large golden spotlight shines over the center of the stage as "Dragon Rider" by Two Steps From Hell begins. A blast of pyro, and "The Ripper" Danny B makes his presence known. The legend pushes his way out of the apron, standing in the center of the golden spotlight as the North Charleston fans watch on and mostly boo him.
Ray Douglas: And his opponent, hailing from Brighton, England, The Ripper….DANNY B!!
Danny smirks at the announcement, confident his ways as he makes his way down the ramp and places his gear on the commentary table. Ripper just winks at Gunt this time, shakes hands quickly with Rolash, and makes his way onto the apron to look out to the sea of fans with his arms draped over the ropes.
Jim Gunt: Danny B not making any fans here tonight in Tampa, Florida already.
Mike Rolash: Why, because he's coming into this match knowing that he already has it won?
Jim Gunt: The Ripper had a similar mindset going into the main event last week, and we all know how that one turned out…
Mike Rolash: Thirty more seconds and Duce woulda been tapping!
Scott Dean calls for the bell after doing his obligatory checks on both Tom Marrow and Danny B, and the Ripper comes to the middle of the ring, immediately telling Benji to bow down to him. At first Marrow looks defiant, angry actually, as he snarls back at the CWF Hall of Famer. But with another hard point downward, Benji succumbs and actually goes down to one, two knees...and then SPEARS Danny B!
Mike Rolash: What is Benji thinking! He was supposed to bow and kiss the feet of the soon to be once again CWF World Champion, not spear him!
Jim Gunt: Get real, Mike, you knew Tom wasn't going to degrade himself like that.
Mike Rolash: Yeah, because that's worse than getting dressed up in a freakin' dog costume.
Following the Spear, Ripper backs up into the nearest corner, stunned from the sudden impact. Benji will not let him recover though, rushing towards the corner with high velocity, front flipping right before impact to crush him with a Cannonball! Tom is right back up to lift Danny B back to his feet but receives a back elbow for his trouble. Danny measures Benji up as he backs up holding his jaw.
Jim Gunt: Superman Punch! The way Ripper hit the air there, you'd think he would've had a career in basketball.
Mike Rolash: Huh, and you'd think you would have a career in stand-up comedy with that joke.
Jim Gunt: Aww...really, Mike?
Mike Rolash: No you freaking unfunny nincompoop!
Jim sighs downheartedly as Ripper continues in on Benji, lifting the man back to a vertical position, hitting him with a boot to the gut or maybe even a little below. Official Scott Dean attempts to admonish Ripper but he already has Tom in position- spiking him right on his head with his Double Arm DDT.
Jim Gunt: True Sin!
Mike Rolash: And Danny is not done, as he's heading to the ropes for some reason...oh springboard into a VICIOUS clothesline!
Jim Gunt: He calls that the Ripper's Blade, Mike! And this one has got to be over now!
Danny uses both arms to shove Tom Marrow down, holding him there as he goes for the cover on him.
ONE!
TWO!
No! Before the official can count to three, Ripper pulls the head of Benji up stopping the count!
"BOOO!"
Jim Gunt: These fans are not appreciating the games of Danny B, as he just toys with Tom Marrow now.
Mike Rolash: I thought Benji was the kinky one, since when did Ripper like to play with his food?
Jim Gunt: Ahem..
Waving his fingers, Danny laughs at Scott Dean who gets to his feet to question him. The Ripper shrugs, turning his attention back to Tom Marrow who struggles to get back up to his feet. He turns around, his arms going up looking to hit a punch or maybe block one...RKS! The Ripper Kill Shot hits out of nowhere, and Benji flops right back to the canvas. Danny B rolls him to his back, his trademark smirk back on his face as he lays on him with his side, counting along with Scott with his fingers.
ONE!
TWO!
THREE!
Ray Douglas: The winner of this match by pinfall and picking up two points in the Alpha and Omega Tournament….DANNY B!!
Jim Gunt: Big win there for Ripper, as he now moves to three points in the tournament.
Mike Rolash: And another hard loss from Benji, who will clearly be back in the dog house following this one. Maybe the chain was a little too tight this week, Jim?

The scene switches backstage where Tara Robinson stands in front of an Evolution backdrop.
Tara Robinson: Ladies and gentlemen, please welcome my guests at this time, they are the CWF World Tag Team Champions! Vince Espinoza and Omar Martinez.. Most Known Unknowns and their manager, Byson Kaliban!
The trio appear on screen, surrounding Tara. Vince to her right, Omar stands behind her and Byson is to the left.
Tara Robinson: From my understanding Byson, you requested this time. So what is it that you have to say?
Byson smiles as he looks at Tara and then to the camera.
Byson Kaliban: Well sweetie.. it seems that nowadays.. all anyone wants to talk about is the Alpha & Omega Tournament. Everyone wants to know.. who's going to be the next CWF World Champ. But ya see babygirl.. in the midst of all that murlarkey.. these two men..
Byson points to both Vince and Omar who display their titles proudly over their shoulders.
Byson Kaliban: The only active champs on this roster, mind you. Have sat impatiently waiting on the sidelines for Jaiden Rishel to find us some worthy opponents. But that has yet to happen and we stand here asking why…? Why? Why must we stay stagnant? Why must these two men sit on the sidelines? We DEMAND a match next week or there will be two less champions around this place..
"Is dat right?"
The quartet looks over as Duce walks up into view.
Duce Jones: I rememba' when I was tag champ.. My bad, two time tag champ an' teams were flockin' ta face Styles an' myself.
Duce looks over at Espinoza and Martinez, then them.
Duce Jones: Hell.. even them.. An' if I rememba' correctly.. it was these two muthafuckas day made their presence known by pullin' dat creepy shit at tha end'a one'a Tha Aces matches. Funny how tha shoe is on tha otha' foot now.
Byson Kaliban: Haha! Duce cut it out. You're my brother and I love you man but I'm not about to allow you to sign your own death certificate like this. I mean these guys are beasts waiting to be unleashed and I would be less of a brother to you if I let them hurt you.
Duce rolls his eyes.
Duce Jones: I'm not fucked up bout none'a dat.. I thank it's bout time I repay a courtesy ta these two. Bruh, it ain't nothin' personal too ya.. Dis shit just long overdue.. so consida dat lil challenge fo' next week accepted.. As fo' you two.
Duce points towards the tag champs.
Duce Jones: Those mind games y'all like ta play, don't mean shit ta me.. Cuz when ya least expect it. It can always be..
Duce now points past them as Freddie Styles walks up.
Freddie Styles: Ballgame…
Jones fist bumps his former Aces tag partner in Styles.
Styles & Jones: Aces Up!
The former two times tag team champions walk off, leaving the current champs fuming. Byson appears upset, snatching his fedora off of his head and slamming it to the ground. We cut back to ringside.
Jim Gunt: Did I just here that correctly, are the Aces coming back together next week?
Mike Rolash: I think I'm gonna be sick…
Jim Gunt: This is huge news for next week.. Smokin' Aces will be rejoining forces to take on the Most Known Unknowns, next week!
Mike Rolash: Yay….
The camera cuts to the ring where Ray Douglas stands inside with rookie official, Nick McArthur. The fans are as loud as they can be inside of the arena!
Ray Douglas: The following Alpha Block contest is scheduled for one fall with a thirty minute time limit! Introducing first..
As the opening of "Rise" hits the speakers, the arena goes dark with fog filling the entrance area. Upon the CWF Tron, a video montage begins to roll of Zolton standing atop a mountain and behind him is highlights of what he has done in a wrestling ring. As the lyrics begin to be heard, Zotlon himself steps out onto the stage area among the smoke. The crowd begins to boo loudly. Zolton relishes in the dissatisfaction of the crowd with an arrogant grin. His long leather trench coat gleams off the now bright spot light shining down upon him.
Ray Douglas: Making his way towards the ring.. weighing in at two hundred sixty five pounds! Residing in Yakima, Washington! ZOLTON!
He now begins to make his way down the ramp toward the ring. Refusing to acknowledge the crowd as he passes them. Reaching the ring he steps up the ring steps slowly, his arrogant smile plastered all over his face. He then jumps to the top turnbuckle of the corner of the ring. He calls it his throne as the arena lights return to normal and the song fades to silence. Zolton ignores the crowd as he lets his trench coat slide down off his shoulders to the floor.
Jim Gunt: Zolton made his debut last week with an impressive win over Nathan Paradine.
Mike Rolash: He made a believer out of me and this is one of my to go all the way.
The lights in the arena go out as a mysterious voice is heard over a slowed down "Mia Khalifa" beat.
"L-L-L-Lestrange!"
The real beat to "Mia Khalifa" kicks in.
Who do you think you are?
You were sucking dick for a foreign car (Brrrrr)
Gotta take that call
They want you at work so, girl, go do your job
Mia Khalifa (Mia!) Mia Khalifa (Mia!)"
Ray Douglas: His opponent.. making her way towards the ring.. Weighing in at one hundred ten pounds.. "The Deviant" PHOENIX LeSTRANGE!!
The fans boo as Phoenix Lestrange appears on the stage. The song made famous all over the internet hits with the most known lines.
"Hit or miss
I guess they never miss, huh?
You got a boyfriend, I bet he doesn't kiss ya
He gon' find another girl and he won't miss ya"
Phoenix skips down the ramp and slides into the ring, dry humping it a couple times for good measure as she sticks her tongue out and crawls, stripper like, to the corner, looks over at Zolton who's climbing down from the corner looking unimpressed.
Jim Gunt: Phoenix LeStrange, ladies and gentlemen..
Mike Rolash: Well… that was quite the entrance..
Jim Gunt: Who's Mia Khalifa?
Mike Rolash: Someone who left the game too soon..
McArthur signals for the bell and both competitors move out of their corners. LeStrange reaches out with her right hand for a test of strength. Zolton is caught by surprise with LeStrange's unorthodox approach but he locks fingers with her nonetheless. They soon intertwine fingers with their other hand. Phoenix drops to her back and frees one of her hands with a kick. Zolton shakes it furiously in pain as LeStrange takes the opportunity to roll back up to her feet and a knuckle lock applied to his other hand.
Jim Gunt: Impressive offense by LeStrange so far, drawing Zolton into a false sense of security.
Mike Rolash: My opinion is still on the table about this chick.. You can't trust anyone with so called 'Havens'.. it's got cult written all over it.
Jim Gunt: Zolton able to break LeStrange's grip and takes her down with a leg trip!
Mike Rolash: There you go Zolton, don't let this weirdo get you off of your game!
Z rolls her back to her knees by her legs but she takes the opportunity to try and crawl between his legs. With cat like quickness, Zolton drops down on top of her preventing whatever she had up her sleeve. Her smaller frame allows her to escape his clutches. She grabs ahold of his leg and manages to get Zolton on his back as she gets vertical. She tries to step over for a spinning toe hold but Zolton uses his long legs to trip her into a seated position. Without hesitation, he rolls her backwards and now has her shoulders pinned to the mat! McArthur comes over for the count.
ONE!
TWO!
KICKOUT!
Jim Gunt: Nice technique by Zolton here tonight, showing off that extensive MMA background.
Mike Rolash: The guy is a warrior, did you know he was competing in two separate round robins?
Jim Gunt: Indeed I did, this man if a very gifted athlete.
Both competitors are back to their feet and eyeing the other. Zolton smiles and nods as LeStrange appears uneasy by the fact that Zolton is able to keep up. They both move towards each other, Phoenix LeStrange ducks down and charges forward, throwing a shoulder into Zolton's gut. Grabbing his leg, she trips him down to the mat, using his body as momentum to roll through up to her feet. But the larger Zolton rolls through with her now with a cravate headlock applied! Using his size, he trips her down to the mat and locks on a wrist lock.
Jim Gunt: Nice wrist lock applied by Zolton who seems to have a counter for everything that The Deviant attempts.
Mike Rolash: I think we may be looking at our next World Champion, Jimbo.
Refusing to quit at McArthur's asking, she rolls backwards to her feet and now has Zolton in a front facelock. She transitions into a wrist lock but Zolton spins through and takes her over and down to the mat with a fireman's carry. Their both up to their feet and backing up into opposite corners. Zolton charges at Phoenix LeStrange but she gets a foot up to his face! The larger Zolton, stumbles back and doubles over. She hops up to the middle rope and dives over him taking him over with a sunset flip! She holds on for the pin.
ONE!
TW-KICKOUT!
LeStrange is frustrated as she rolls back to her feet, Zolton has done the same as Phoenix races straight for him.
Jim Gunt: TITAN'S CRUSH!
Mike Rolash: Oh wow… that was impressive.
Spinning Roundhouse Kick turns LeStrange inside out as she crashes to the canvas. Zolton gets back to his feet with a smirk on his face as the fans show how much they loathe him. He deadlifts her off the mat and onto his shoulders in a crucifix position. He walks around the ring with her displayed proudly in his shoulders before lifting her up and spiking her down into the mat with a sit-down powerbomb! He folds her legs down until the tip of her boots are touching the mat. McArthur drops down for the count.
ONE!
TWO!
THREE!
Nick signals for the bell as Zolton shoves LeStrange's unconscious body off of him.
Ray Douglas: Here is your winner by pinfall and picking up two points in the Alpha and Omega Tournament....ZOLTON!!
Zolton rolls out of the ring and calmly makes his way to the back as the fans once again shower him with boos.
Mike Rolash: Zolton said he was gonna leave her unconscious in the ring and he held true to those words.
Jim Gunt: He's a scary individual Mike and tonight he's just earned two more crucial points.
Ray Douglas: The following is the final Alpha Block Match, scheduled for one fall with a thirty minute time limit….and is tonight's MAIN EVENT!!
The fans are buzzing, as a voice begins to speak through the PA system.
"And the whole world loves it when you sing the blues… Da. Da.. Da. Da. Da.. Da…."
The opening sounds of "Godspeed" by Don Trip begins to play as the lights inside of the arena turn a crimson hue color, soon the stage filling up with smoke. After about a minute of waiting, Duce Jones slowly emerges through the fog, instantly inciting cheers from the crowd.
Ray Douglas: Making his way to the ring, weighing in at two hundred fifteen pounds! From Memphis, Tennessee….DUCE JONES!!
Slowly making his way towards the ring, Jones smiles at claps hands with some of the sold out crowd, as he soon makes it to ringside. Climbing gingerly onto the apron, Duce goes to the corner to his right, climbing onto the second rope and peering out into the crowd. Finally done, he slowly climbs down inside of the ring and removes his hooded vest as he prepares for action.
Jim Gunt: Duce moving a little slower than normal this evening, after battling it out with Danny B to a time limit draw last week on Evolution.
Mike Rolash: Which I still say was an absolute load of bullshit. Ripper should be sitting at four points right now, Jimmy!
Jim Gunt: Be that as it may, Jones has another tough challenge here this evening, let's see if he's up to the task.
The lights lower and the remaining lights turn to a golden color. "Shoot to Thrill" by Halestorm hits. The crowd explodes into cheers. Amy Jo Smyth steps out onto the stage, her back turned to the crowd, head covered by the hood of her jacket. The golden lights change and simulate a cascade of glitter over her. Smyth spins around on her toes and faces the crowd as a single spotlight falls on her. She holds a large silver cannon connected to a tube running backstage.
The Good Doctor lifts the cannon, aims upward…
"I got my gun at the ready gonna fire at will
'Cause I shoot to thrill and I'm ready to kill
I can't get enough and I can't get my fill
Shoot to thrill play to kill
Pull the trigger, pull it
Pull it, pull it
Pull the trigger"
Smyth screams as she presses the trigger on the handheld cannon. Large pieces of golden glitter shoot into the air and rain down over the right side of the crowd. Smyth moves to the left, aims again, and fires off another round of glitter into air.
Smyth hands the cannon off to a production staffer standing in the wings. She then throws her head back and arms upward and outward, letting the remaining glittering light wash over her. She slowly makes her way down the ramp, looking over the crowd, giving the occasional high five to a fan with a perfectly placed hand. She reaches the end of the ramp and throws a fist up in the air. The crowd pops, both for the display and Smyth herself.
Ray Douglas: And his opponent, hailing from New Jersey… She has her Ph.D. in submission, "The Good Doctor"....AMY JO SMYTH!!
After a quick moment of listening to the crowd, she rushes forward, slides into the ring, and stands. Smyth throws her hood down, unzips her hoodie, and spins on her toes with her arms raised. She throws both arms down triggering an explosion of glittering light over the ring.
She strips of her hoodie and passes it off to the nearest person on the outside. The lights come back up but remain golden. In the usual show of her abilities, Smyth bounces off the ropes, cartwheels forward, and performs a standing corkscrew twist that carries over into a butterfly twist. That quickly turns into a front handspring that takes her to the center of the ring where she starts a series of backflips. All of that floats into single front handspring where she lands on one hand and performs a single-armed handstand. She comes down and lands in a split. Duce stands there the entire time, his hands on his chin with a "can we get this over already?" look on his face.
Mike Rolash: Well that was a needlessly long entrance. Couldn't this have been the week that both these stupid idiot competitors fight to a draw so that NEITHER of them scores a point?
Jim Gunt: Your logic has more holes than swiss cheese, but moving on…
Trent Robbins finalizes his check ups on both Smyth and Jones, turning around to call for the bell to start off another hot Alpha Block finale.
Jim Gunt: Duce Jones is clearly in pain as he comes to the center of the ring, but he sure is putting on a game face so that Smyth can't sense it.
Mike Rolash: If you can tell...anyone can tell, Jim.
Jim Gunt: ….
The Kid That Never Dies calls for a standard arm and collar tie up, and Smyth eyes up him, smiling as she shakes her head and instead delivers a stiff kick right to his knee. Duce flinches, moving his hands down to his damaged left knee but Amy Jo Smyth capitalizes by taking him down with a Japanese arm drag. She goes after the former two time CWF World Heavyweight Champion but he is able to quickly crawl his way outside the ring, taking a breather as he slowly paces back and forth.
Jim Gunt: This is not good for Duce Jones. That knee has to be a lot more damaged than Jones puts on, will he even be able to continue on in the tournament?
Mike Rolash: Give him a shot of morphine, he'll be alright until morning.
Jim Gunt: …..
ONE!
Trent Robbins finally begins to count out Duce Jones after warning him to get back in the ring, but Jones is taking his time, making sure to formulate a gameplan before re-entering.
TWO!
SUICIDE DIVE BY JO SMYTH-NO! JONES CATCHES HER ON THE WAY THROUGH AND DOUBLES HER OVERHEAD WITH A BUTTERFLY SUPLEX! SMYTH LANDS IN THE LAP OF A LARGE MAN WEARING A T-SHIRT TWO SIZES TOO SMALL IN THE FRONT ROW!
"HOLY SHIT! HOLY SHIT! HOLY SHIT!"
Mike Rolash: These fans say holy shit, but think of what that poor guy is thinking!?
Jim Gunt: Probably gave him a moment he'll never forget in his life! Only here in CWF do you get THIS close to the action, folks!
With Jones down in a seated position and Smyth trying to pull herself away from the "lucky" fan, Trent once again begins his count.
ONE!
TWO!
Jones turns around, pulling himself back up with the help of the barricade.
THREE!
Right hand from Jo Smyth! She miraculously has pulled herself away from the fan, and leaps up off his lap to nail a flying clothesline to Duce!
FOUR!
FIVE!
Picking the Kid That Never Dies off the canvas, Amy rolls him into the ring and follows him in, going right back to the injured left knee of Jones. She drops down to place him in a vise but Jones is able to turn around, kicking her straight in the face with his free boot! Jones kips up to his feet, once again flinching in pain, giving Smyth enough time to up right along with him. He throws a right hand but she's able to duck underneath it, lifting Duce up from behind and dropping him down knee first right onto her outstretched legs! Jones is in serious trouble at this point, screaming in pain as Amy Jo simply turns him onto her back, ignoring the small amount of boos starting to come from the CWF faithful as she goes for the cover.
ONE!
TWO!
KICKOUT!
Ray Douglas: TEN MINUTES HAVE ELAPSED! TWENTY MINUTES REMAINING!
Jim Gunt: Here we go, Mike, we're ten minutes in! You think it's possible this one could go the distance like last week?
Mike Rolash: Absolutely not, Jones' knee isn't going to hold out another minute!
Pushing her way out of the cover, Amy does a 180 spin around the body of Duce and grabs onto his injured leg. Duce Jones is able to do a spin of his own, breaking free and grabbing onto the ropes to hit her with a Mule Kick on the way up. Out of desperation, he leaps up onto the ropes and springboards off.
SHINING WIZARD KNEE STRIKE! Jo Smyth goes down from the cracking strike, but Jones does as well, slapping the canvas from the obvious pain. He crawls over to his opponent slowly, turning her on her back to go for a cover but instead decides to lift her up for a Brainbuster, unfortunately for him Amy is able to drop out from behind. She sinks in a Hammerlock, quickly pulling her legs up onto the body of Jones to put him in some sort of Body Scissors as well.
Jim Gunt: Bound and Gagged! Amy Jo Smyth has some strange names for her moveset as we learned about last week, but every single one of these trademark moves are incredibly lethal and this one in particular could have Jones tapping any second!
Mike Rolash: I would have went after the knee…
Jim Gunt: The Good Doctor has been targeting Jones left knee for much of the match, Mike. You've got to give her some credit.
Mike Rolash: When have you known me to give anyone anything?
Jones is able to break his arms free from the grip of Amy Jo Smyth, pulling out of the Bound and Gagged and turning her upside down, sending Smyth crashing down in the corner with a Vertical Suplex! The Kid runs towards Amy Jo as she pulls herself up in the corner, leaping up to hit her with a Cross Body, going through the ropes as he connects. Jones lands on the apron, does a short sprint before leaping up onto the top rope, catching the Good Doctor with a Zig Zag on the way down!
Jim Gunt: Duce's Wild! Cover!
ONE!
TWO!
THREE!
NOO!! SMYTH ROLLS HER SHOULDER AT TWO!
Split reaction from the sold out Amalie Arena as the Tampa crowd starts up split "Let's Go Duce!" "AMY JO!" chants. The former multi CWF champion is unable to capitalize on Smyth yet again, holding onto his left knee as he drags himself over to the ropes, using them to assist himself back to his feet just in time to watch Smyth do a backflip towards him, kicking him right in the face. Connect The Dots! She then spins him around with the Jersey Tap Water propellor headscissors, and finally turns around to call out to the Tampa fans telling them the end is near.
Jim Gunt: After dominating much of this match against a less than hundred percent Duce Jones, it looks like Amy Jo Smyth is finally ready to put him out of his misery!
Mike Rolash: Put the injured dog out back and shoot him.
Jim Gunt: Come on Mike, that's taking it way too far…
Hot Georgia Peach cartwheel legdrop right onto the injured left knee of Duce Jones. Amy Jo Smyth drops down looking like she's going to put the Kid in the Eat Me Out triangle, but instead of going for his head pulls the shaking leg of Jones in. She twists them around, and sits down into a Figure Four Leglock!
Duce's eyes shoot open as the agony courses from his left knee all the way through his body. He attempts to turn to his right, but the Good Doctor has the submission hold locked completely in. Jones drops down to his back, blinking his eyes hard as his hands drop to the canvas. Trent Robbins rushes over, checking on him even as Amy continues to put pressure on the hold. He asks Duce if he can continue, and then raises his arm up which falls once to the canvas. A second time and Duce quickly brings his body back up, looking Amy Jo Smyth dead in the eye.
Ray Douglas: TWENTY MINUTES HAVE ELAPSED! TEN MINUTES REMAIN!
Jim Gunt: Looks like your prophecy didn't rain true this week, Mike, but I don't know if Duce can hold on much longer. Wait...thunderous strike from Jones. And another one! Smyth is forced to let go of the figure four leglock, but at what cost to the already destroyed knee of Duce Jones!?
Mike Rolash: Duce may as well give up now, if he continues he's going to cost himself the rest of the tournament!
Jim Gunt: It doesn't matter, Mike, Duce has that here and now attitude that our fans know and love and right now he has Amy Jo up in the Fireman's Carry...and you know what that means! FINAL TIC 2.0! Duce very smartly uses his right knee to spike down Amy with the facebreaker, and now hooks both of her legs!
ONE!
TWO!
THREE!
Ray Douglas: Your winner by pinfall and picking up two points in the Alpha and Omega Tournament….DUCE JONES!
Jim Gunt: What a win for the Kid that Never Dies! Tremendous showing for Amy Jo as well who looked like she had this match won on numberous occasions throughout that twenty one minute bout, but fighting both another great opponent and a clearly damaged knee, Duce is able to overcome and pick up another two big points bringing himself up to three now!
Mike Rolash: Next week we have Silas and Autumn main event the second week of the Omega Block, what a show THAT one should be. Good night, folks!

Results compiled and archived with the Efed Management Suite
---