Evolution 71
12 Nov 2019
Zona Hotelera, Cancun, Mexico (seats 55,000)
Jim Gunt: We are at the end of the line, in Cancun, Mexico! The beginning of the end starts today! Welcome to Evolution 71!
The crowd pipe up as the lights turn on to show the cameras the sea of people, with the commentators by ringside.
Jim Gunt: I'm Jim Gunt and right beside my is my partner, Mike Rolash!
Mike Rolash: Beh.
Jim Gunt: It's been two and a half months since we started Alpha and Omega, and tonight, the former comes to an end as we decide whom will shoot for the Paramount Championship, and whom will try to grab the World Championship in the main event of Genesis!
Mike Rolash: And their opponent will be decided at Evolution 72, but first! Running down Alpha block and making sense of it all, it's the Alpha and Omega ironmen champions, Church and State!
Blake Church: Good evening!
Charles State: How do?
Jim Gunt: So, we're at the end of Alpha. Just one more match, what can be done tonight?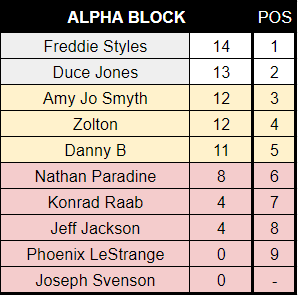 Charles State: Well, to call it a tight race would be selling it short, although the competition for second place might be more exciting than the main event!
Mike Rolash: Explain.
Blake Church: Smyth, Zolton, and Danny B are in what State and I have now taken to calling the "Danger Zone", meaning that they need to at least win tonight to be mathematically viable for a Paramount title shot. All of them need Duce Jones to lose against his Smokin' Aces partner Freddie Styles to gain the Paramount shot, but Danny has to not only win tonight, but he also needs both Zolton and Duce to lose against their opponents tonight to possibly gain the opportunity.
Jim Gunt: Because of the points tie?
Charles State: Yes! Danny B got a tough trip ahead of him, it could end before his match tonight if Zolton wins, but the beauty of a round robin tournament is that even if you don't gain a title shot, whom you beat matters a lot. He's beaten Freddie Styles, and if Styles wins the CWF World Championship, who's to say that Danny B would come knocking? Same with Zolton if Jones won either of the belts at Genesis!
Jim Gunt: Any predictions?
Blake Church: You know, I'm actually going to go for the underdog in the title race. Danny B maybe an extremely unlikable individual, personally, but who doesn't love a good story?
Charles State: I'm personally gunning for Duce Jones. He's been on a roll throughout this whole tournament and he's been in multiple PPV main events for a reason. He's my pick to win the whole thing!
Jim Gunt: Gentlemen, thank you for your time, and we'll see you once more at Evolution 72, but for now, let's head into the ring with Ray Douglas!

The camera switches over to the ring, where Ray Douglas looks set to get the night started.
Ray Douglas: The following is your opening contest and is an Alpha Block match, scheduled for one fall, with a thirty minute time limit! Introducing first...
"Cold as Ice" by M.O.P plays over the sound system as Konrad comes out through the curtain just wearing his blue and white mask with white hair along with his wrestling trousers with his nickname The Iceman on the front of them with Pit Bull Energy logos on the side of his trousers with black gloves on both of his hands with a side cross necklace on his neck with the blue and black yin-yang tattoo on his right shoulder, Iceman from X-Men tattoo on his back, Ice wolf on his left chest and ice bear on his right chest.
Ray Douglas: From Cologne, Germany, weighing in at two hundred and four pounds! He is "The Iceman"... KONRAD RAAB!
He then high fives the fans as he goes up the stairs before going in-between the ropes and does a holdup on each turnbuckle and everyone cheers him as he gets down from the turnbuckle and does a few boxing punches to the cameras before he looks at his opponent waiting for the match to start.
Jim Gunt: Well it's time to kick off our final night of Alpha Block action as Raab takes on Svenson here in our opening bout.
Mike Rolash: I can't believe that we're finally at the ending point. It's been a long road but we've made it Jim.
The arena lights begin flashing as the stage lights up.The CWF fans stand up and watch the stage as Joseph Svenson makes his way out and walks directly towards the ring.
Ray Douglas: His opponent, from Virginia Beach, Virgina, weighing in at one hundred and eighty-five pounds! JOSEPH SVENSON!
Reaching ringside, Joseph Svenson makes his way up the staircase then climbs through the ropes. Moments after entering the ring, he makes his way over to the near corner and begins to stretch for his match.
Jim Gunt: Svenson has been less than impressive since he was inserted in this tournament.
Mike Rolash: Yeah man, he did pretty well in his debut but lately has yet to be able to get the wheels really spinning in the CWF..
Official, Scott Dean does the customary check on both competitors and immediately signals for the bell. Both men circle the ring before locking up, using his size advantage, Raab quickly backs Svenson up into the near corner where Dean is right there to call for the break. Respectfully obliging, Raab lets up, taking a few steps back as Svenson stares at him with pure disgust. They circle the ring again and tie-up once more, a small battle for positioning begins before its Svenson who's able to get The Iceman backed up into a corner. Once more, referee Scott Dean is on the scene demanding that Svenson break his grasps. Spitefully, he obliges but not before firing a hard slap across Konrad's jaw. The crowd gasps from the disrespect but that soon turned to cheers as Raab fires back with a slap of his own!
Jim Gunt: The Iceman returning a hard slap to Svenson's face and now he's unloading with right hands!
Mike Rolash: Svenson may call himself, Mr. No Gimmicks but his attempt to melt the ice just then, backfired.
Raab snags on a headlock but Svenson quickly backs him into the ropes and shoots him across. The Iceman rebounds off and No Gimmicks Needed leaps into him for a shoulder block but Raab remains on his feet. Seeming frustrated, Svenson hits the ropes again and when he returns Raab drops down to the mat as Svenson runs over top him. Popping to his feet as Joseph rebounds off the opposite set, Konrad ducks underneath a clothesline attempt and handsprings off of the ropes. Just as Joseph turns towards him, Raab catches his head for a cutter, spiking him into the mat.
Jim Gunt: HE JUST CAUGHT SVENSON WITH THE ICE STORM OUT OF NOWHERE AND HE'S GOING FOR THE COVER!
Raab hooks the leg as Dean slides in.
ONE!
TWO!
THREE!
Dean signals for the bell.
Ray Douglas: Here is your winner via pinfall and earning two points in the Alpha Block! "The Iceman".. KONRAD RAAB!
"Cold as Ice" kicks back in as Raab gets to his feet and raises his arms in the air in victory as Scott Dean points to him to make it official. The Cancun fans cheered loudly, sounding bullhorns and trumpets in appreciation for the impressive effort of the Iceman in his final Alpha Block contest.
Jim Gunt: What a nice win by The Iceman just then but those two points weren't enough to help him get any closer for competing for the CWF World Championship.
Mike Rolash: Well all I know is that I'm glad that this is possibly the final time that we see Mr. No Gimmicks..
Jim Gunt: It's No Gimmicks Needed, Mike..
Mike Rolash: What the fuck ever, he took the gimmick, too far..
Jim Gunt: Well with one match in the books, why don't we send it over to Ray as we get our next match underway.
We switch back over to Ray who's ready to keep the show rolling.
Ray Douglas: The following contest is an Alpha Block Match set for one fall, with a thirty minute time limit!
The opening riff to "Beat The Devil's Tattoo" by Black Rebel Motorcycle Club begins to blast around the arena as Nathan Paradine emerges from behind the curtain, the overhead lights reflecting off of his trademark sunglasses.
Ray Douglas: Introducing first, from Melbourne, Australia, weighing in at two hundred and forty pounds! He is the "Australian Submission Machine"…. NATHAN PARADINE!!
He smirks as he surveys the crowd for a moment, thumbing the collar of his leather jacket before flicking his hands outwards and approaching the ring. He climbs the stairs and wipes his boots on the outside of the apron before stepping between the ropes. He observes the crowd once more before shrugging out of his jacket, passing it off to a stagehand and backing off into the corner to perform a few light warm ups as he waits on his opponent.
Jim Gunt: Nathan had a rather odd way for preparing for this contest this week, Mike..
Mike Rolash: What d'ya mean Jimbo? Going to a titty bar is the perfect way to prepare for someone like LeStrange. Also considering how last week went for the Australian Submission Machine, he needed to unwind.
Jim Gunt: For those of you who were unable to join us last week, Nathan was attacked by CWF's newest signee, Thaddeus Dukes.
Mike Rolash: Yeah that kick was lethal.. It had Paradine totally incapacitated an unable to compete against Douche.
The lights in the arena go out as a mysterious voice is heard over a slowed down "Mia Khalifa" beat.
"L-L-L-Lestrange!"
The real beat to "Mia Khalifa" kicks in. The fans boo as Phoenix Lestrange appears on the stage. The song made famous all over the internet hits with the most known lines.
Ray Douglas: His opponent, weighing in at one hundred and ten pounds.. "The Deviant"…. PHOENIX LeSTRANGE!!
Phoenix skips down the ramp and slides into the ring, dry humping it a couple times for good measure as she sticks her tongue out and crawls, stripper like, to the corner, waiting for Robbins to signal for the bell.
Jim Gunt: The ever provocative, Phoenix LeStrange ladies and gentlemen..
Mike Rolash: I guess one last dry hump of the ring won't hurt anyone.
Paradine looks fired up and ready to go as LeStrange gyrates out of the corner awkwardly. Robbins signals for the bell and Paradine rushes LeStrange, clocking her with a big boot. She crashes to the mat hard and Nathan begins to lay the boots onto her. Paradine brings her upright where she begins to fight back with lefts and rights but the Australian Submission Machine puts a stop to it with a knee to the gut, doubling LeStrange over. A hard forearm to the back sends her down to a knee.
Jim Gunt: Nathan came here tonight prepared..
Mike Rolash: So, we're in agreement that going to a strip club is excellent research?
Jim Gunt: That is not what I was saying..
Mike Rolash: But you were definitely thinking it..
Nathan goes to bring her back upright but she shoves him off and begins to fire off forearm shots the side of his head. With Paradine rocked, she rebounds off of the ropes and right into Nathan's clutches as he uses her momentum to send her flying with an Overhead Belly-to-Belly Suplex! She crashes hard onto the canvas as Paradine goes to make the cover.
ONE!
TWO!
NO!
LeStrange is able to get the shoulder up as Paradine slaps the mat in frustration. On bended knee, Paradine watches Phoenix roll away in agony as he contemplates his next move. Getting to a vertical base, he watches on as LeStrange crawls towards the ropes.
Jim Gunt: Paradine displaying that killer instinct that he's known for!
Mike Rolash: Yeah, at this point, LeStrange has already lasted longer in this match than she has this entire tournament.
Jim Gunt: That's not true, Mike..
Mike Rolash: You're shitting me, hell she's spent a significant amount of time on her back.
As she makes it to the ropes, Paradine sends a swift kick to her midsection that sends her sprawling onto her back, grabbing her gut in discomfort. Going behind a downed Deviant, Paradine wraps her left arm into a hammerlock. LeStrange yells out in pain as the Australian Submission Machine wrenches violently on the hold. The fans are enjoying the action as bullhorns and clappers ring out through the Zona Hotelera as the Cancun fans thoroughly enjoy the action on hand. Continuing to apply pressure on the hold, Nathan looks firmly in control as LeStrange begins to pound her leg on the canvas to try and encourage some energy from the fans, she receives a minor bit of support. She uses what she gets though, dipping down low and firing a kick into Paradine's face! One more forces him to release his grip as he stumbles away grabbing at his face. But he recovers quickly and stomps down hard onto LeStrange.
Jim Gunt: Nathan's not letting up right now as he stomps every inch of LeStrange's body!
Mike Rolash: Paradine needs to go ahead and put this chick out of her misery.
Backing into the ropes, Nathan bounces off and goes for a knee drop onto Phoenix's face but she manages to roll out of the way and his knee connects with the mat. He rolls away quickly grabbing at his slightly tweaked knee. Both competitors slowly make it to their feet as the fans hoop and holler, cheering them on, LeStrange is the first to act as she rakes Paradine's eyes, momentarily blinding him. Booting him in the gut, she spikes him head first into the mat with a DDT!
Jim Gunt: Did LeStrange just got in some offense?
Mike Rolash: She knows how to wrestle? I thought she was only out here to thrust her pelvis on things..
Jim Gunt: She's going for the cover!
ONE!
TWO!
KICKOUT!
Mike Rolash: Maybe Nate is still feeling the effects of the attack from Dukes last week..
Jim Gunt: There's no telling, Mike.
Nathan rolls to his hands and knees, clearly surprised that LeStrange caught him off guard. Meanwhile, LeStrange stays on her back, exhausted from Paradine's onslaught. They both slowly stumble to their feet and LeStrange tries to go on the offensive but Paradine shoves her into the nearby corner. Charging in, Paradine attacks no one as LeStrange slithers between his legs. Now it's her turn to charge in, leaping up and dropkicking Nathan on the back, sending him into the corner. Rolling backwards to her feet, she rushes in again at Paradine who steps out from the corner and totally destroys her with an exploder suplex into the turnbuckles!
Jim Gunt: PARAPLEX BY NATHAN INTO THE TURNBUCKLES! And Mike, you have to think that it's all over..
Mike Rolash: Yeah man, she crashed horribly in the corner just then.
The Zona Hotelera are ravenous as they applaud loudly after the move. The sounds of horns and bells ring out as Nathan drags Phoenix from the corner and immediately ties her up in the Mark of Judas! Not even wanting to try and fight through the pain, LeStrange instantly taps out and Robbins signals for the bell.
Ray Douglas: Here is your winner, via submission and earning two points in the Alpha Block! "The Australian Submission Machine"... NATHAN PARADINE!!
As "Beat The Devil's Tattoo" continues to play Paradine rolls to his feet and motions for a microphone, sparing a single glance at Phoenix Lestrange as she rolls out of the ring underneath the bottom rope and begins to stumble her way back up the ramp. Paradine snatches the mic as soon as it has been offered to him and motions for his music to be cut as the crowd murmurs amongst themselves, some respectfully quiet and others quite open with their jeers.
Nathan Paradine: Did you see that?
He points up the ramp towards Lestrange as she staggers behind the curtain, massaging her throat in pain.
Nathan Paradine: Ladies and gentlemen, that is what I do. I don't win every match I'm in, but every opponent I have faced that has beaten me has paid the price for their victory in blood, sweat and tears. Those that I have beaten? They're gone, mate. Lindsay Troy took her ball and went home. Xander Daniels is hopefully still being fed through a tube in a hospice somewhere. Tom Marrow? Gone straight back into the doghouse. I suppose what I'm trying to say is... when push comes to shove you've got two choices with me; tap, or bloody snap.
Paradine pauses for a moment to allow the crowd to digest his words.
Nathan Paradine: Jaiden Rishel has picked a fight he knows he can't win. I'll admit, I was somewhat the aggressor... but instead of facing me like a man, he went out and he hired someone else to do his dirty work for him. I don't give a damn about that. He can go and hide with his tail tucked between his legs and let Duce Jones do whatever the hell he wants to him. My issue is that he goes and offers a contract to one Thaddeus Duke. I don't know this kid, but his name sounds pretentious as hell. He goes out, he hires this kid, and like any man with a target on his back I go out to confront this little problem head on because that's just what I do, I deal with my problems. I get the mic and I open my mouth to talk about the situation I'm in, and I eat a superkick for my trouble. No hello, no introduction, nothing! And that just doesn't sit right with me, to be honest.
Paradine paces back and forth as a replay is shown of the superkick from Thaddeus Duke the previous week, ending with Thaddeus telling Paradine never to step into the lion's den without an invitation.
Nathan Paradine: Next week I want Thaddeus Duke to come down here to this ring and face me like a man, not in a match but as one pro wrestler to another, and shake my hand as he apologises for his actions last week. We can bury the hatchet with no more bad blood. Because I swear if I don't get that apology it's going to take more than a goddamn cult to stop me from tearing that boy limb from limb, you understand!? Whatever I do will be on YOU Thaddeus!
Suddenly, "My Name Is Human" by Highly Suspect begins to play over the sound system. Paradine lowers the mic and turns towards the entrance ramp to anticipate the arrival of Thaddeus Duke.
Jim Gunt: Mike, do you think that maybe once again Nathan Paradine has bitten off more than he can chew?
Mike Rolash: It wouldn't surprise me one bit, but Paradine did have a point; every "big match" he's had where it's been one-one-one, he's emerged as the victor. Maybe it would be best for Thaddeus to just shake his hand and apologise?
Paradine is still staring up at the entryway, but the camera's attention is suddenly drawn to ringside as a fan in jeans and a grey hoodie jumps the barricade. Security rush to apprehend the intruder but he pulls back his hood to reveal his identity; The Lion Heart, Thaddeus Duke!
Jim Gunt: It looks like Thaddeus Duke isn't taking any chances by getting a front row ticket to scout Paradine incognito!
Mike Rolash: Can he just do that? Jump the rail if he isn't booked to compete?
Jim Gunt: This is a wrestling show, you know security is practically non-existent.
Paradine turns with a frown before taking a step forward and parting the ropes, inviting him to step into the ring. The Lion Heart stares at the Australian Submission Machine for a moment before obliging, jumping up onto the ring apron and stepping between the ropes to come face-to-face with Paradine. Both men regard each other before Paradine raises the mic as "My Name is Human" dies away.
Nathan Paradine: Nice work with the theme music. Do you have one of your guys working the sound crew tonight?
Duke remains silent but gives Paradine a small, cocky grin. Paradine shrugs; good trick, kid.
Nathan Paradine: Now as I'm sure you just heard me speak seeing as you were seated right at ringside, I can only assume you crossed that barricade because you wanted to come in here and shake my hand. Well here you go son, nice and easy now-
*THWACK!*
Paradine crumples to the mat as Thaddeus Duke floors him with another superkick that damn near takes his head off! Duke turns to admire his handiwork as Paradine remains twitching on the mat. Duke kneels down and grabs Paradine's mic to speak.
Thaddeus Duke: You know what they say... out with the old, in with the new.
Duke tosses the mic down onto Paradine's body as "My Name Is Human" resumes playing. Duke rolls out of the ring and makes his way up the ramp, halting only once to look back down at the now-motionless Nathan Paradine in the middle of the ring before Evolution cuts to a commercial break.
Returning back from commerical break, we go right back to Ray Douglas, who appears to be enjoying himself so far in Cancun, Mexico.
Ray Douglas: The following is a tag team contest is scheduled for one fall with a thirty minute time limit! Introducing first…
The lights throughout the venue cut leaving the fans sitting in complete darkness. Suddenly red and blue lights begin flashing throughout the arena as the sound of police sirens pierce the silence. Suddenly the heavy beat of "Terrorstorm" blasts from the various speakers throughout the venue. After several moments of anticipation the curtain pulls back and Johnny Graves steps out onto the stage wearing the CWF Impact Championship around his neck. He is closely followed by the Amazonian bodyguard known as Aeryka Aries. Graves slowly moves his gaze over the sea of fans, a confident smirk on his lips. The deep, heartbeat bass of Taylor Swift's "Look What You Made Me Do" drops over the arena's public announce speakers as the artist Magdalena Lockheart emerges from behind the curtain. Magdalena steps out into the center of a light blue spotlight wearing a long black dress. Standing next to a now kneeling Graves as she applies a dark cherry lipstick to her lips with the aid of a pocket mirror.
Ray Douglas: Being accompanied to the ring by Aeryka Aries, at a combined weight of three hundred and twenty-nine pounds! They are the team of CWF Impact Champion, Johnny Graves and the Carnage Wrestling UltraViolent Champion, Magdalena Lockheart! They are... NATURAL SELECTION!!
The ramp in front of her lights up like a model's runway. Lockheart struts down the ramp - Johnny Graves and Aryka Aries in tow - as if she's modeling the dress, pausing briefly at the bottom to pose while flashbulbs go off all around her.
Mike Rolash: Johnny and Maggie look magnificent as ever..
Jim Gunt: They may look confident right now but Graves has been stating how O'Leary and Fredricks caused him to break a promise he made to Lockheart.
Mike Rolash: He promised her gold around her waist and he wants to make true on that promise.
Jim Gunt: Yeah and they almost came close last week, almost defeating the Most Known Unknowns..
Johnny jumps up onto the ring apron and sits on the middle rope holding them open for Maggie and then Aryka to enter the ring. Johnny follows them inside and the three move around the ring savoring the cheers they receive from the Cancun crowd. Some generic music begins to play as the crowd switch to a murmur as the el33t Team of Larry O'Leary and Terrence Fredricks make their way menancingly towards the ring.
Ray Douglas: Their opponents, making their debut, the team of Larry O'Leary and Wilhelm Terrence Fredricks.. THE EL33T TEAM!!
The two men stomp up the steps and climb into the ring, going to their designated corners as "Big" Denny Davidson comes over to do his customary check.
Jim Gunt: These two men made their debut attacking the CWF Tag Team Champions and their current opponents here tonight.
Mike Rolash: Well lets see how good they are when they're facing a team head on.
Graves looks set to start for his team as Fredricks is the man who steps up for his team. Davidson signals for the bell and both men circle the ring, Maggie feigns entering the ring which easily distracts Fredricks and Graves pounces on him with clubbing blows to the back. Using his strength, Fredricks shoves the Sin City Saint down to the canvas. Rolling back to his feet, Johnny runs in at Terrence who scoops him up and slams him down hard with a takedown. Graves quickly rolls to his hands and knees from the impact but Fredricks stays on him, grabbing a rear waistlock and deadlifting him off of the mat before slamming him front first into the canvas.
Jim Gunt: Graves talked a big game before stepping into the contest tonight but I'm sure he didn't account for the raw strength of these men.
Mike Rolash: C'mon Jimmy Dean, we all know the story of David and Goliath.. It's only a matter of time before the Sin City Saint is able to bounce back in this match.
Fredricks powers him over onto his back and attempts a pin but Graves kicks out before Davidson is down to make the count. Using his speed, Graves pops to his feet and quickly latches on a side headlock. Terrence easily shoves him off into the ropes where Lockheart makes the tag, meanwhile, Graves runs right into a shoulder block that has him grounded on the mat. Stepping through the ropes and charging towards Fredricks, Maggie receives a shoulder block of her own as she crashes down hard. Johnny is back to his feet and charging at Fredricks who sends him flipping over to the mat with a hip toss. Lockheart rushes in and cracks the back of Fredricks' left knee with a hard shoot kick. He immediately clutches at it as she connects with another kick to the back of the knee.
Jim Gunt: Lockheart might have found a weakness as she's attacking the Fredricks' knee.
Mike Rolash: These guys got the size advantage over these two glorious athletes and what better way to get them to the mat, than chopping them down?
Magdalena continues to work over the leg with hard kicks until she has Fredricks in her team's corner where she makes the tag to a returning Graves. Stepping inside, Graves and Lockheart drag Fredricks from the corner and viciously whips him back into the 'buckles but Terrence bounces off and explodes through them with double lariats! With both members of Natural Selection down on the mat, Fredricks stumbles over to his corner and makes the tag to O'Leary. Coming in and looking to do damage, O'Leary walks right into a running knee strike from Graves! With Larry rocked, Johnny begins to unload on him with hard right hands. Graves looks to whip O'Leary into the corner but he stands strong, sending the Sin City Saint in the opposite direction. Graves uses the momentum to go up and over in the corner but O'Leary is nowhere to be found but he soon finds him as Larry crushes him from behind in the corner with an Avalanche Splash! Graves crumples into the corner.
Jim Gunt: These two are quite impressive in their first outing here tonight as they seem to have a counter for everything that Johnny attempts.
Mike Rolash: Yeah, but are they consistent? A lot of guys can make an impact but do they have longevity?
Bringing Johnny back vertical, O'Leary shows raw power as he biel throws Johnny almost completely across the ring where he crashes hard! O'Leary stalks towards Graves who searches for refuge but he finds none as Larry snares him up from the mat. Taking Graves off his feet, O'Leary slams him with a hard scoop slam. Staying on the attack, O'Leary brings him back up and tosses him into the el33t Team corner where he tags Fredricks back in. Coming inside, O'Leary backs Fredricks up and whips him hard into Graves, crushing him the corner with another Avalanche Splash. His legs flail up into the air before Fredricks shoves him into an O'Leary shoulder block! Graves crashes hard to the canvas and Wilhelm goes for the pin, hooking the leg as Davidson is over to make the count.
ONE!
TWO!
KICKOUT!
Jim Gunt: Graves' able to get his shoulder off the canvas but look how swiftly Fredricks transitioned into that armbar!
Mike Rolash: So they may have a little bit of skill.
Fredricks pulls up and yanks on Graves' arm as he cries out in pain. Graves tries to work his way up to a knee as Terrence continues to twists his arm. He finally manages to get to a knee but Fredricks wrenches with all of his might, but Graves displays resilience and fortitude as he screams at Davidson to get out of his face and continues to will himself to a vertical base. Graves tries to reach out to the outstretched hand of Lockheart as Fredricks and himself begin to spin in a 360 rotation around the ring. Every time that Graves nears Maggie's hand they get closer and closer before they finally touch! Fredricks pulls Graves in and slams him with a body slam as Lockheart enters the ring. She runs right into a bearhug as Fredricks carries her small frame effortlessly around the ring, O'Leary now enters the ring and bounces off of the ropes before charging and nearly taking Lockheart's head off with a vicious lariat!
Jim Gunt: Oh My Lord! He could've broken her neck just then!
Mike Rolash: That indeed looked brutal but you forget that Mags is the CW UltraViolent Champion and has experience far worse pain than something like that.
Lockheart appears to be out as Fredricks goes for the pin.
ONE!
TWO!
But Graves is there to break it up, which immediately brings O'Leary back over as he grabs Graves and tosses him through the ropes.. He follows suit and waits for Graves to get up, charging with a head full of steam towards him but the Sin City Saint sidesteps and O'Leary crashes hard into the barricade. Back inside, Fredricks who had just brought Lockheart back up, releases her, looking to go help his partner. As he goes to step through the ropes, Maggie pops to her feet and charges at him with wild strikes, Fredricks tries to cover up but hurriedly drops her with a clothesline, which gives Graves enough time to leap up onto the apron and grab Terrence from behind. Using all of his strength, Graves lifts Fredricks from the apron and drills him with a german suplex onto the thin matted floor!
Jim Gunt: He could've seriously injured him just then! But what power on display by Johnny Graves!
Mike Rolash: Johnny impresses me every time that he steps inside of the ring and tonight is no exception.
Both men lay sprawled over the floor as horns and bells ring out along with cheers from the Cancun fans. Slowly recovering, Lockheart rolls under the bottom rope and to the outside looking to bring Fredricks vertical. She's finally able to get him up to a knee but he's recovered enough to fire off a punch to her gut. She quickly snaps off a front kick that drops Fredricks back down to the floor. Getting him back up with all of her might, she rolls Terrence back into the ring and follows suit but Fredricks is back to a knee and firing right hands to her gut as she nears him. Taking a step back, she charges in and drops him with a step-up enzugiri! She brings him up with haste and pushes him back into the Natural Selection's corner where she tags back in Graves. The two teammates have Fredricks pinned in their corner as they interchange kicks into his chest! With Terrence rocked, Maggie steps to the apron and Graves stomps Fredricks left leg, dropping him down. With Fredricks down on hands and knees, Graves begins clubbing viciously across his back before grabbing Terrence's leg and dragging him back towards Maggie.
Jim Gunt: Lockheart and Graves starting to come into their own as they have singled out Fredricks' injured limb. Graves ties it into the ropes as he makes the tag to Lockheart.. But Fredricks cracks her with an elbow shot that sends her flying from the apron. BIG RUNNING CROSSBODY ON GRAVES!
Mike Rolash: Who are these guys again?
Staggering towards his corner, Fredricks looks set to make the tag but a returning Lockheart stops him with a chop block! Fredricks screams out in agony as Lockheart begins to stomp down precisely on different parts of Terrence's body, focusing more attention on his left leg. Done with the assault, she goes back and tags in Johnny. Together, they bring Fredricks up and whip him into their team's corner. Lockheart runs in and rotates as she nears before rocking Fredricks with discus elbow, she then spins the opposite way and connects with a spinning back elbow this time! Fredricks on wobbly legs, stumble out of the corner but he's sent crashing back into the 'buckles as Graves nails a shotgun dropkick! Getting to his feet, Graves drags Fredricks back to a vertical base and hooks him for a uranage but before he delivers it, Lockheart comes leaping in with a forearm strike to the back of Fredricks head before Graves takes him off of his feet and plants him face first with an inverted STO before locking in the Koji Clutch! With his hands and legs wrapped around Fredricks neck, Graves tries his best to strangle the life from Fredricks' body.
Jim Gunt: Graves has Fredricks locked in the FUBAR and it may be over for the el33t Team.
Mike Rolash: Not if Fredricks has anything to say about it, he's powering up to his feet!
Indeed he is, he makes it to a standing base as Graves still hangs off of him with the hold applied. Using all the strength he could muster, Fredricks brings Graves high into the air before slamming him with a modified powerbomb, forcing Graves to break his grip. Both men lay on the mat almost extinguished of all energy. Suddenly, the lights inside of the Zona Hotelera go dark!
Jim Gunt: What could this mean?
Mike Rolash: Are you seriously asking?
When the lights pop back on, the CWF Tag Team Champions, the Most Known Unknowns are standing at ringside near O'Leary. He turns towards them and beckons them to bring a fight but they stand there unmoving. Inside of the ring, both Fredricks and Graves have made it to their feet and are surveying the situation. Graves, noticing who the tag champs true targets are, backs up to his teams corner and whispers something to Lockheart. Meanwhile, Fredricks is occupied with his partner and the threat that stands before him. The lights go off again, when they come back on, the tag champs are gone but so is O'Leary. Terrence appears shocked as he looks around frantically for his tag partner but he only turns into a spinning back round kick that knocks Fredricks crossed-eyed. He drops to his hands and knees as Maggie enters the ring and finishes Fredricks off with a curb stomp! Graves shoots the half and hooks the leg, going for the pin!
ONE!
TWO!
THREE!
Davidson signals for the bell as Graves rolls off of Fredricks downed body.
Ray Douglas: Here are your winners, via pinfall… Johnny Graves.. Magdalena Lockheart.. NATURAL SELECTION!!
"Terrorstorm" kicks in again and the Cancun fans goes nuts. Maggie comes to Johnny's side as he sits up next to Fredricks unconscious body, tired from the hard fought battle that they had just went through.
Jim Gunt: Impressive win by the new team of Graves and Lockheart as they pulled off what many may have thought was impossible, finishing Fredricks off with the Last Rites/Lacrimosa combination.
Mike Rolash: These two were primed to win those tag straps until those two jackasses appeared but a bit of redemption for the Natural Selection.
Jim Gunt: But you'd have to credit the assist to the tag team champs, Mike..
Mike Rolash: Graves and Mags did this on their own and I'm not going to allow yout to take the credit away from them, Jimbo!
Johnny and Magdalena continue to celebrate their win inside of the ring, until the volume of the crowd rises and Natural Selection are attacked from behind by none other than Scourge and "The Judge" Jeff Jackson. The two men viciously attack Lockheart and Graves as the fans hoop and holler from the simple sight of seeing some action. The Judge locks Graves in the Judgement Day while Scourge clamps down on Maggie's head with a claw. Natyral Selection almost appear helpless untiil the lights go out again.
Jim Gunt: Okay.. this is getting completely out of hand..
Mike Rolash: I thought the days of the lights going out where gone when the Forsaken skidaddled out of here...
The lights come back on and the CWF Tag Team Champions, Vince Espinoza and Omar Martinez, stand across from Jackson and Scourge staring menancingly at each other. The two teams look set to come to blows before a T.J. Flint led security team come rushing out to get things calm..
Jim Gunt: Fans we're going to try and get things situated, we'll be right back after this break.
Mike Rolash: I say let em fight..
The scene fades out, cutting to a commercial break.
We come back from commercial break, focused on our commentary team.
Jim Gunt: Welcome back to Evolution 71 and what a night it has been. And after the events that happened before we went to break. We now know that in addition to the final Omega Block matches, we will have a Fatal-4-Way Match when Omar Martinez goes against Johnny Graves, Scourge and Larry O'Leary.
Mike Rolash: Sounds like a good one but I'm ready to get back to some more action.
Jim Gunt: Me too, take it away Ray!
We switch back over to Ray Douglas..
Ray Douglas: The following contest is an Alpha Block match, scheduled for one fall, with a thirty minute time limit! Introducing first...
As the opening of "Rise" hits the speakers, the arena goes dark with fog filling the entrance area. Upon the entrance screen a video montage begins to roll of Zolton standing atop a mountain and behind him is highlights of what he has done in a wrestling ring. As the lyrics begin to be heard, Zotlon himself steps out onto the stage area among the smoke. The crowd begins to boo loudly. Zolton relishes in the dissatisfaction of the crowd with an arrogant grin. His long leather trench coat gleams off the now bright spot light shining down upon him.
Ray Douglas: Making his way to the ring, weighing in at two hundred and sixty-five pounds! Residing in Yakima, Washington.. "The Man of Chaos"... ZOLTON!
He now begins to make his way down the ramp toward the ring. Refusing to acknowledge the crowd as he passes them. Reaching the ring he steps up the ring steps slowly, his arrogant smile plastered all over his face. He then jumps to the top turnbuckle of the corner of the ring. He calls it his throne as the arena lights return to normal and the song fades to silence. Zolton ignores the crowd as he lets his trench coat slide down off his shoulders to the floor.
Jim Gunt: Zolton looks to stand strong in this tournament as he vows to be the ultimate Alpha by the end of this thing.
Mike Rolash: That's all fine and dandy but he needs Styles to lose later on to Douche Bones if he wants to have a shot at fighting for the World title..
Jim Gunt: That would indeed cause a chaotic predicament for the tournament.
Mike Rolash: Well as much as I want Zolton to pull this tournament out, I'd rather see Douche get his ass handed to him by his good friend, Freddie Styles.
The lights go out in the arena. A bell sounds and voices begin a chant like chorus. After 15 seconds, the lyrics begin.
"I can feel the floor shaking, and the glass begin to break. The air is getting thinner with every breath that I take. The calm before the storm, you could hear the drop of a pin. Never been claustrophobic, but now the walls are closing in."
As the song continues, The terrifying figure known as The Judge makes his way to the ring. He is dressed in his purple cloak and hideous demonic skull mask. As he approaches, the chorus begins.
Ray Douglas: His opponent, weighing in at two hundred and thirty-five pounds! From Halifax, Nova Scotia, Canada… "The Judge".... JEFF JACKSON!!
"So strike me down, take me away. Debts are due, it's time to pay. Face what I deserve, here comes Judgment Day! I won't run, the guilt is mine. Too long denying all my crimes. Face what I deserve, here comes Judgment Day!"
Once in the ring, he stands mid ring with his head down. After a long pause, he flings his head back to remove the hood, as purple flames shoot from the posts. As the camera focuses in on the horrific features of the mask, the music fades.
Jim Gunt: Jackson let his feelings be known this week on CWF Wired and he appears more menacing than ever..
Mike Rolash: The guy has a switch inside of his head that can be clicked on and off at anytime but judging from his promo, he's completely broken that motherfucker.
Jim Gunt: And after the attack that him and Scourge placed on the Natural Selection, they've placed their names in the hat for viable contenders for the Tag Team Championship.
Mike Rolash: Finally, the tag division appears to be heating up.
Rookie official, Nick McArthur signals for the bell and both men move like bulls towards each other as they lock up. Using his smaller stature, Jackson ducks behind Zolton and begins to unload with punches and forearms into his kidneys. The brutal shots drives the Man of Chaos into the nearby corner where The Judge unleashes fury onto Zolton as he tries his best to cover up. Jackson continues to club away at him until Zolton's able to switch positions and he now has Jackson pinned in the corner, beginning to connect with precise shots to the Judge's body.
Jim Gunt: This is going to be an all out war, Mike.. it may come down to who's able to gain the upper hand first.
Mike Rolash: Both of these men have been on absolute tears through the competition during the final stretch of this tournament. And we should expect no less in this final contest here.
Moving Jackson into the ropes, Zolton fires a shoot kick into Jackson's chest but he menacingly stands strong. Zolton unleashes another kick but gets the same result as Jackson stands his ground. Not deterred by the Judge's action, Zolton cross-chops Jeff's throat, forcing him to gag, following it up with an irish whip but Jackson reverses and catches Zolton with a gut punch as he rebounds. Jackson now looks for the irish whip but the Man of Chaos reverses, bringing him in and flooring him with a clothesline!
Jim Gunt: It's been back and forth since the bell has rung and I can't see neither man gaining the clear advantage.
Mike Rolash: You'd think Z would be in control giving he has the size and height difference over Jackson but the Judge is on a completely different level right now.
Grabbing Jackson from the mat with a gutwrench, he yanked him up to his feet before planting him with a Gutwrench Powerbomb! Jackson bounces off of the canvas from the impact but has the wherewithal to roll out of the ring. Zolton rises to his feet and quickly follows suit not wanting to give Jeff any time to recover. Moving around ringside, Zolton comes to a rising Jackson and cracks him with a hard elbow shot. Shoving Jackson into the barricade, Zolton unloads another kick into his chest. Jackson tenses up from the blow but returns with a hard clubbing blow into the side of Zolton's neck.
Jim Gunt: Has McArthur even started to count?
Mike Rolash: I haven't heard anything but when you have two guys like this inside of a ring with you.. I'm figuring that it'll be hard to contain them.
Jackson grabs Zolton by the back of his long wavy hair and slams him face first into the apron. Taking a few steps back, Jeff runs in at Zolton but the Man of Chaos scoops him up off of his feet and slams him back first into the ring apron with a tilt-a-whirl slam! Jackson arches his back in pain as he crashes down onto the floor. Zolton roars loudly at the Cancun fans how boo him furiously, making long trumpet horn blows..
Jim Gunt: They really need to get this action back in the ring.
Mike Rolash: And who's gonna make him, the rook?
Jim Gunt: He's getting paid to do a job, he should at least try to enforce the rules.
Mike Rolash: Maybe he's been counting this whole time but his voice is too low for us too hear…
We get a shot of McArthur who throws his arms in the air, softly shouting, "Seven.." as Zolton has a hand full of Jackson's hair, dragging him up the steel steps. Once they near the ring post, Jeff sends a forearm into Zolton's mid section. With Zolton doubled over, Jackson grabs him around the head and twists him around before driving him into the top of steel steps with a neckbreaker! Both men collapse to the floor as they bounce off of the steel. Fighting through the pain though, Jackson gets up to his feet and moves towards Zolton bringing him up, rolling him back into the ring. Sliding in himself, he breaks the near ten count of McArthur.
Jim Gunt: That could've easily been a countout loss but these men finally able to bring it back into the ring.
Mike Rolash: Yeah, I would hate to see it end that way, especially with the impact both men have made since the beginning of this tournament.
Getting to his feet, Jackson walks over to Zolton, who's recovering in the corner. With emotionless eyes, peering through his mask, he begins to claw away at Zolton's face pulling and tugging away at his mouth and eyes. Zolton flails into the ropes, trying to get the relentless Judge off of him. McArthur finally asserting some authority as he counts to five. Jackson releases at the final second before kicking Zolton hard across his back. Zolton rolls to his hands and knees, trying to create some space but Jackson is right there to drop an elbow into the back of his neck. Bulldogging Zolton over, Jackson goes for the first pin of the match. Nick sliding in to make the count.
ONE!
TWO!
NO!
Jim Gunt: Zolton forcefully kicking out of that pinning predicament, proving that he still has some fight left.
Mike Rolash: This one is honestly hard to call Jimbo, either man can pull out the victory here tonight.
Jackson gets to his feet, bringing Z up along with him. Grabbing ahold to his head once again, the Judge twists him around and spikes him with a Hangman's Neckbreaker! Zolton clutches at his neck in pain, Jackson drops on top of him, hooking the leg for the pin.
ONE!
TWO!
KICKOUT!
Zolton violently kicks out again as Jackson sits up next to him staring down at him in disdain. Getting back to his feet, Jackson feels he has things in firm control as he takes a moment to pose as the Man of Chaos lies at his feet. Rising to his knees, Zolton fires a punch into Jackson's gut, with the Judge doubled over, Zolton decks him with a right hand. The Judge staggers back but returns a punch to his face. Zolton returns a shot still on bended knee. The two trade shots back and forth as the rowdy Cancun crowd enjoys every moment of the brawl. Jackson goes to boot Zolton in the face but he catches the foot, with quick thinking, Jackson brings his other boot up and kicks Zolton in the face as both men crash to the mat. Jackson goes for another pin.
ONE!
TWO!
NO!
Jim Gunt: Once again, Zolton's able to get his shoulder off of the mat.
Mike Rolash: He's starting to take a beating as the Judge has an answer for almost everything he tries.
Jackson appears unfazed as he brings Z vertical but not before latching on a front chancery necklock. Zolton immediately tries to fight against the hold as the Judge stands firm with his positioning. He squeezes tightly on the hold as Zolton continues to struggle to get free. Finally done with trying to fight against Jackson's clutches, the Man of Chaos powers through, flipping the Judge overhead with a release northern lights suplex! Both men are down and winded as McArthur comes over to check on them before starting the mandatory count.
ONE!
TWO!
THREE!
Neither man has yet to move.
Jim Gunt: What will it take for one of these men to put the other away!?
FOUR!
Mike Gunt: I have the slightest idea but both men are starting to move.
FIVE!
Both men rise to their knees, coming eye to eye before the two begin to exchange forearm shots between one another. Back and forth the two go as the cowbells and horns sound off from the crowd for the intense action. They both fight up to a vertical base, exchanging shots with neither man seeming to gain the advantage. They're both on wobbly legs as they continue to go back and forth as the Cancun fans show their appreciation. Jackson swings wildly the final time and Zolton ducks his large frame underneath before stinging Jackson's chest with a knife edge chop! The Judge turns, trying to protect his chest but this proves costly as Zolton grabs him from behind and throws him recklessly backwards with a german suplex! Jackson crashes horribly onto his shoulders before flipping over to his front.
Jim Gunt: What a throwing German Suplex by Zolton as he looks to take control!
Mike Rolash: Yeah, but he didn't go for the pin.. He's too busy pandering to these stupid fans.
Zolton spews venom at the audience but majority of them are too drunk to even care as they continue to cheer on the hard hitting affair. Jackson staggers back to his feet, clutching his neck region as Zolton backs him into the near corner and shoots him across the ring. Jackson crashes into the 'buckles as Zolton looks to charge in behind him but Jackson catches him with a boot to the jaw that drops him down to a knee. Leaping up to the second rope, Jeff leaps off with an elbow drop but Z quickly sidesteps and hooks him in a full nelson. Using every ounce of strength in him, the Man of Chaos lifts him off his feet and spikes him with the slam!
Jim Gunt: Zolton connecting with what he likes to call, God's Smite! And he hooks the leg going for the cover!
ONE!
TWO!
THR-NO!
Mike Rolash: Oh! I thought it was over just then Jimbo..
Jim Gunt: You and me both man, you and me both…
Zolton looks infuriated, asking what he has to do to put Jackson away. Zolton is back upright and snatching Jackson by his hair off the mat. Wasting no time, Zolton locks Jackson in a standing triangle choke or as he calls it, Earth's Answer! However, his grip is not firm as Jackson fires elbows into the side of Zolton's skull forcing him to release the Judge. He stumbles away, rubbing at his temple as Jackson latches on a side headlock. He stares menacingly out at the rabid Cancun crowd.
Jim Gunt: Jackson looks to be going for a bit of Martial Law… but Zolton shoves him off into the ropes! Jackson rebounds off… TIDAL CRUSH!!!!
Mike Rolash: He hit that one on the money..
The spinning roundhouse kick has Jackson down but not out as he slowly recovers on the canvas.. Zolton stoically stalks a rising Jackson, signaling for The Pearly Gates.. Jackson staggers towards Zolton and he receives a boot to the gut, throwing Jackson in a standing headscissors. He poses for the fans before lifting Jackson into a crucifix position, taking a few steps forward, Zolton looks to drop him with the powerbomb but the Judge slides free. Landing on his feet behind Zolton, he waits for Z to turn towards him before shoving his fingers down the Man of Chaos' throat!
Jim Gunt: THE JUDGE JUST CAUGHT ZOLTON BY SURPRISE WITH HIS JUDGEMENT DAY!
Mike Rolash: C'mon, Z get out of it!
Zolton frivolously tries to fight out of Jackson's clutches but he has the mandible claw on tightly. The Man of Chaos' life slowly begins to fade as the Judge has the hold on tightly and shows no signs of letting up.. Zolton collapses to the canvas while Jackson keeps the hold applied. McArthur, right on the scene checks on Zolton but no longer sees life in his glossed over eyes. He immediately signals for the bell. Jackson still has the hold locked in.
Ray Douglas: Here is your winner, via knockout and earning two points… "The Judge" JEFF JACKSON!!
McArthur pleads with him to release his grip, which he finally does, getting to his feet and shoving McArthur out of the way before he exits the ring while "Rise" plays over the sound system again.
Jim Gunt: Big victory by Jackson has he thwarts away any chances, Zolton had of competing for the World Championship.
Mike Rolash: Well, he did the best he could and he brought a hell of an effort to the table in this tournament. I would definitely love to see him compete inside of a CWF ring in the near future.
Jim Gunt: You've got that right, Mike.. But let's take a quick break and we'll be back with more Alpha Block action..
We come back from commercial break as Douglas is prepared to keep this show moving.
Ray Douglas: The following contest is an Alpha Block Match, with a thirty minute time limit and is scheduled for one fall! Introducing first...
The lights lower and the remaining lights turn to a golden color. "Shoot to Thrill" by Halestorm hits. The crowd explodes into cheers. Amy Jo Smyth steps out onto the stage, her back turned to the crowd, head covered by the hood of her jacket. The golden lights change and simulate a cascade of glitter over her. Smyth spins around on her toes and faces the crowd as a single spotlight falls on her. She holds a large silver cannon connected to a tube running backstage.
The Good Doctor lifts the cannon, aims upward.
"I got my gun at the ready gonna fire at will
'Cause I shoot to thrill and I'm ready to kill
I can't get enough and I can't get my fill
Shoot to thrill play to kill
Pull the trigger, pull it
Pull it, pull it
Pull the trigger"
Smyth screams as she presses the trigger on the handheld cannon. Large pieces of golden glitter shoot into the air and rain down over the right side of the crowd. Smyth moves to the left, aims again, and fires off another round of glitter into the air. Smyth hands the cannon off to a production staffer standing in the wings. She then throws her head back and arms upward and outward, letting the remaining glittering light wash over her. She slowly makes her way down the ramp, looking over the crowd, giving the occasional high five to a fan with a perfectly placed hand. She reaches the end of the ramp and throws a fist up in the air. The crowd pops.
Ray Douglas: And his opponent, hailing from the great state of New Jersey… She has her Ph.D. in submissions… "The Good Doctor" Amy Jo Smyth!!
After a quick moment of listening to the crowd, she rushes forward, slides into the ring, and stands. Smyth throws her hood down, unzips her hoodie, and spins on her toes with her arms raised. She throws both arms down triggering an explosion of glittering light over the ring. She strips of her hoodie and passes it off to the nearest person on the outside. The lights come back up but remain golden. In the usual show of her abilities, Smyth bounces off the ropes, cartwheels forward, and performs a standing corkscrew twist that carries over into a butterfly twist, finally landing in a split.
Jim Gunt: Amy Jo earned a big victory over the Man of Chaos last week, Mike. Do you think that she can keep that momentum going?
Mike Rolash: As much as I like the Good Doctor, Danny B's a bonafide CWF Hall of Famer and can end a match quickly with his array of offense. But she could just as easily steal the win, here tonight.
A large golden spotlight shines over the center of the stage as "Dragon Rider" by Two Steps From Hell begins. A blast of pyro, and "The Ripper" Danny B makes his presence known. The CWF legend pushes his way out of the apron, standing in the center of the golden spotlight as the CWF fans watch on and give him a mixed reaction.
Ray Douglas: Hailing from Brighton, England and weighing in at two hundred and twenty pounds… he is "The Ripper"... DANNY B!
Danny arrogantly smirks at the announcement, confident in his ways as he makes his way down the ramp and slides into the ring underneath the bottom rope. He rises to his feet and surveys with crowd before performing a mock bow and backing away into the corner to await the start of the match.
Jim Gunt: Word has it that this is not the first encounter between Amy Jo and Danny B, having faced off once before where The Ripper was able to come out on top.
Mike Rolash: Well, we know that both of these fighters have what it takes to pull out the victory tonight, but my question is will it be a repeat of history?
Clark Summits signals for the bell as both competitors move from their corner. They instantly lock up but The Ripper easily shoves the smaller Good Doctor back into her corner. Summits is right on the scene calling for the break as Danny B casually backs up while Smyth has her hands up in the air. The Ripper looks like he's almost mocking Amy Jo as he backs up and this pisses her off as she fires a hard overhand chop onto his chest! She lunges into him with knees to the midsection, interchanging between both legs. Breaking free from her clinch, The Ripper fires an european uppercut that sends Smyth stumbling backwards into the ropes. She bounces off as Danny ducks for a back body drop but she stands him back up with a kick to the chest. She rushes to the ropes, rebounding again but The Ripper drops her with a vicious clothesline!
Jim Gunt: We knew this was going to be a back and forth contest between two ring veterans but did you expect it to be like this from jump, Mike.
Mike Rolash: The Good Doctor and The Ripper are two seasoned pros in this business and neither one is going to take this fight lying down, Jimbo.
Smyth appears to be out on her ass as she sits up on the mat. The Ripper connects with the point of his elbow, a few times, to the neck area of Smyth before bringing her back up to her feet and hooking her for a suplex. Lifting her up, he drops her gut first across the top rope where she bounces off and crashes horribly to the floor. Danny then basks in the middle of the ring as the sounds of bullhorns and boos ring out throughout the Zona Hotelera. Done taunting the fans, Danny watches on as Amy Jo rises to her feet, once she's up on wobbly legs, Danny hits the far ropes, races back across the ring and flies through the ropes like a cannonball, taking the Good Doctor back down to the floor!
Jim Gunt: Tope con hilo by The Ripper and he's taken firm control of this matchup.
Mike Rolash: The Hall of Famer, never ceases to amaze me.
Jim Gunt: In hindsight, he's still fairly young..
Mike Rolash: Which makes his status even more legendary.
Getting back vertical, Danny B brings Amy Jo up and rolls her inside of the ring, following suit, he rolls her onto her back and attempts a cover as Clark slides in to make the count.
ONE!
TWO!
KICKOUT!
Choosing not to argue with Summits, Danny sits the Good Doctor up and hooks on a cobra clutch. Clark is right there to see if the submission expert wants to submit but she shakes her head furiously in denial. She begins to fight her way up, throwing elbow shots into The Ripper's midsection, using her smaller frame, she flips him over to the mat with an arm drag, freeing herself in the process. Both competitors get back to their feet and its Amy Jo who's first to strike as she rushes in at The Ripper. He sidesteps, sending her crashing into the corner, now its him who charges in. Using the bottom ropes for leverage, she springs up and flips over him and rushes to the ropes. Rebounding off, she charges right into the Kamehameha Kick! Her body goes stiff before collapsing to the mat. Danny goes for another cover.
ONE!
TWO!
NO!
Jim Gunt: The Good Doctor able to stay alive in this fight! But she needs to do something quick before the very deadly Ripper finally puts an end to this contest.
Mike Rolash: Man, Danny's in a different zone here tonight, with Zolton losing earlier to Jeff Jackson, he might be a sleeper in this tournament.
Staying relentless with his attack, The Ripper cracks Amy Jo across the jaw with a standing knee strike. The force of the shot sends her rolling away trying to create some space as a confident Danny B moves towards her. Dragging Smyth to her feet by her hair, Danny uses his shoulder to drives her into the nearby corner where he lifts her up to the top turnbuckle. But she springs to life, firing shots down onto Danny, sending him staggering backwards. Feeling that she has enough space, she slowly begins to balance herself on the top rope. Once she's fully standing, The Ripper rushes over and clips her leg, throwing off her balance and causing her to straddle the top ring post. The Cancun fans all collectively sigh sadly as they thought Amy Jo was about to turn the tide. With Amy Jo slumped over in the corner, Danny latches on with a front facelock and pulls her out, dragging her so that her legs are draped across the top ropes. He butterflies the arms and spikes her on her head with a Double Arm DDT! He shoots the half, going for the pin as Summits is over to make the count.
ONE!
TWO!
THREE!
Summits signals for the bell as Danny cockily rises up off of Amy Jo.
Ray Douglas: Here is your winner, via pinfall and earning two points.. "The Ripper" DANNY B!!
"Dragon Rider" begins to play again as The Ripper instructs Summits to raise his hand in victory which he obligingly does. Danny has a huge smile on his face as had no doubt in his mind what the outcome would be.
Jim Gunt: Very convincing win by Danny B over the Good Doctor here tonight, finishing her off with the Ravenhurst DDT and earning two very crucial points in his chase for the World title.
Mike Rolash: Well, he needs Douche to beat Freddie in our main event coming up next but wouldn't that still leave some kind of dilemma..
Jim Gunt: Yeah, I'm almost certain that if Duce wins here tonight, then he's earned the Alpha Block and a spot in the main event of CWF's next pay per view, Genesis.
Mike Rolash: Well shit, I'm sorry Danny but I'm gonna have to keep pulling for Freddie in this one.
Freddie watches the monitor as Danny B gets the victory over Amy Jo Smyth, locking her out of the title chase, and locking in both himself and Duce. Freddie nods at the result as he starts to put his last bit of gear on and head to the gorilla position. Tara stops him in his tracks, mic in hand, cameraman on the fly
Tara Robinson: Amazing match we just saw, but the result locks up the Alpha side of the equation. You vs Duce. Winner gets the world shot, loser gets the Paramount. Freddie, how do you feel about these turn of events, and knowing that you and Duce have guaranteed title shots at Genesis?
Freddie Styles: Look Tara...while knowing that the Aces could both end up with gold at Genesis makes me a bit happy. I still got business. Duce is still in my way...I want that world title, and to get it, I've got to beat him tonight. I think I can speak for us both in saying that we gonna fight hard as hell tonight, but we gonna blaze up in celebration later. Nothing can stop us...Aces all the way up!
Freddie walks off and leaves Tara standing there as he heads towards the ring.
Jim Gunt: Freddie looks set for his encounter with Duce Jones, which will be right after this final break.
Mike Rolash: Destroy Douche, Freddie! Do it for me!
We fade to commercial break.
We come back from commercial break as the Zona Hotelera is estatic as they know what time it is, the usual instruments sounding off through the building mixed with the cheers of the fans. Ray is shown with a big smile on his face.
Ray Douglas: Ladies and gentlemen.. it is TIME for your MAIN EVENT!! The final Alpha Block Match is scheduled for one fall, with a thirty minute time limit! Introducing first..
The lights go down, and all you see is a silhouette of a man, bouncing side to side as the bridge hits.
"Heavy is the crown
Only for the weak…"
As the song moves into the verse, Freddie steps out from behind the curtain as he just stands there in his hooded vest, hood over his head, bouncing from side to side, before making his slow walk towards the ring.
Ray Douglas: Making his way to the ring, from Atlanta, Georgia, weighing two hundred and twenty-three pounds! He is "Mr. Ballgame"…. FREDDIE STYLES!!
"The knife in my heart couldn't slow me down
'Cause power is power, the fire never goes out
I rise from my scars, nothing hurts me now
'Cause power is power
Now watch me burn it down"
Freddie slowly walks up the ring steps, and steps through the ropes. He then stands on the middle rope, holding one arm above him, before stepping down, and leaning over in a corner. He takes the hood from off his head, then takes the vest off completely, tossing it to the floor, awaiting the beginning of the match.
Jim Gunt: And it's all come down to this, the Battle of the Aces.. Both men hold a victory over each other and this is the proverbial, rubber match.
Mike Rolash: I have no doubt in my mind that Freddie will walk away with the win. Douche in too bad of shape right now and honestly, I still don't care for him too much.
Jim Gunt: You must still be mad about him attack you that one time?
Mike Rolash: I'll never forget..
The fans are buzzing, as a voice begins to speak through the PA system.
"And the whole world loves it when you sing the blues… Da. Da.. Da. Da. Da.. Da…."
The opening sounds of "Godspeed" by Don Trip begins to play as the lights inside of the arena turn a crimson hue color, soon the stage filling up with smoke. After about a minute of waiting, Duce Jones slowly limps through the fog, instantly inciting cheers from the crowd.
Ray Douglas: Making his way to the ring, weighing in at two hundred fifteen pounds! From Memphis, Tennessee! "The Kid that Never Dies"... DUCE JONES!
Slowly making his way towards the ring, Jones smiles as he claps hands with some of the sold out crowd, soon making it to ringside. Climbing onto the apron gingerly, Duce goes to the corner to his right, climbing onto the second rope and peering out into the crowd. Finally done, he climbs over the top rope, carefully landing inside of the ring and removes his hooded vest as he prepares for action.
Jim Gunt: No matter how you feel about Duce Jones, you have to respect him for showing up here tonight after having competed in a hellacious Unsanctioned Match, just two nights ago..
Mike Rolash: I'm not giving him shit, the motherfucker knew that he had to face Styles here tonight, so when he loses, I don't wanna hear any excuses.
Senior official, Trent Robbins signals for the bell, the rowdy Cancun fans showing their support as both men move to the center of the ring and shake hands in a sign of sportsmanship. Backing up from each other, they circle the ring before meeting in an intense tie-up. Both men jockey through a power struggle to gain the advantage before Duce locks on a side headlock. Struggling against Jones' grip, Styles is able to move him back into the ropes before shooting him across the ring. Jones bounces off and drops Freddie with a shoulder block, he quickly drops on top of him for the pin but Styles kicks out before the count of one. Both men roll to their knees and face off, the Cancun crowd making all type of noise for the early exchange.
Jim Gunt: I can sense now that this one is going to be a good one as these two men are trying to get a feel for each other.
Mike Rolash: Well hopefully Freddie can get this one over with quickly so we can all go home.
Jim Gunt: Well that's just rude, Mike..
Mike Rolash: Sue me, I just wanna see Douche get put in his place and it'll be oh so much sweeter when it's his friend who does it.
Both men rise to their feet and begin to circle the ring, their focus never leaving the other. They lock-up again, Styles quickly snags a side headlock this time, he applies a bit of pressure but Jones is able to manage him into the ropes, where he now shoots him across the ring. This time, Styles drops him with a shoulder block and looks to go for a pin but Jones quickly rolls out of the way. Moving on him quickly, Styles wraps him up in a La Mahistral Cradle but before he can fully complete the pinning predicament, Jones manages to get his shoulders on the canvas.. Robbins drops down to make the count.
ONE!
TWO!
Freddie crucifixes his arms and now has Jones' shoulders pinned to the mat!
ONE!
TWO!
Duce kicks out and both men pop up to their feet. Jones charges at Styles but he sidesteps and sends his partner into the ropes. Jones rebounds off and Styles lifts him high into the air for his patented spinebuster but Jones shifts his body weight and lands on his feet to the side of Styles. Wincing in pain, Jones rolls away from Freddie who motions with his hands in Duce's direction that he almost had him.
Jim Gunt: These men know each other so well and we knew coming in that it may be a counter fest.
Mike Rolash: I have to admit that Duce is a resilient son of a bitch, but he will slip up.
On bended knee, Jones looks up at his former tag partner as he takes a moment to comfort his mildly burnt let arm that's covered by a protective sleeve. Getting back to his feet, he and Styles circle the ring and tie-up yet again. Another power struggle ensues again as both men move each other back and forth around the ring until Styles has Jones pinned in a corner. Robbins is right there calling for the break which Freddie obliges but not before firing off a blistering knife edge chop! Not to be outside, Jones returns fire with a chop of his own. Freddie nods his head in approval, Jones looks fired up as both men stare at each other.
Jim Gunt: This is like watching two brothers go at each it, neither one wanting to back down from the other.
Mike Rolash: Yeah, so far I'm impressed that neither has fully gained control but I know that it's only a matter of time.
Still staring intensely at each other, Jones is caught by a surprise slap to the face. Connecting with right hands, Styles has Duce covering up in the corner before whipping him across the ring. Reversal by Jones and he now follows Styles in but Mr. Ballgame is up and over him, racing towards the ropes but Duce is right behind him. Ducking his shoulder, Freddie sends Jones up and over the ropes, where he lands on the apron. Going to the corner, Freddie springs off the second rope, attempting a triangle dropkick but the Kid that Never Dies drops from the apron before he's able to connect. Freddie crashes to the mat as Jones stands on the outside, laughing to himself a bit.
Jim Gunt: These two know each other so well.
Mike Rolash: Freddie needs to kick him right in his smirking face.
Duce reaches under the rope, trying to pull Styles out of the ring by his legs but Freddie shoves him hard into the barricade! Slumping to the floor, Duce uses the barricade to aid him to his feet. He winches as some of the Cancun fans take the opportunity to touch him. Inside of the ring, Styles is rushing across the canvas, bouncing off the opposite set. Charging towards Jones, Styles comes flying through the ropes, like a missile, taking his partner back down to the floor!
Jim Gunt: Tope Suicida by Mr. Ballgame, totally wiping Jones out and sending him into the crowd!
Mike Rolash: YES! The angels are rejoicing right now!
Robbins screams out, "ONE!" as Styles pulls Jones back over the barricade to ringside. Robbins yells, "TWO!" and Freddie decks Duce with a right hand, sending him stumbling along the barricade. "THREE!" With Jones now positioned at the corner of the barricade, Styles blasts him across the chest with a chop. "FOUR!" Out of desperation, Jones shoves Freddie back first into the nearby ring post. "FIVE!" Arching his back in pain, Freddie clutches at the lower part as Duce throws him into the barricade. "SIX!" With Styles dazed, Jones walks to the other end of the barricade and slaps his leg a few good times.. "SEVEN!" Getting a limping start, he races towards Freddie..
Jim Gunt: D-TRIGGA BY DUCE JONES AND HIS MOMENTUM TAKES HIM BACK INTO THE CROWD!
Mike Rolash: *looking up to the sky* You hate me.. that's what it is, huh?
EIGHT!
With Styles down on the floor, popping to his feet, Jones stands up on the guardrail and pumps fist in the air as the Cancun fans let their instruments sing in the background! "NINE!" Quickly hopping down to the floor, Duce slides in and out of the ring, breaking Trent's count. Going to Freddie, he brings him back up and rolls him back in the ring, following behind him and going for the pin.
ONE!
TWO!
KICKOUT!
Getting upright, Jones brings Styles to his feet and forces him into the nearby corner where he unloads with his punch/chop combo. After about a good ten shots, Duce brings Freddie out and whips him across the ring. Freddie reverses and it's Jones who rebounds off of the ropes, Styles catches him and plants him with a High Angled Spinebuster! Freddie falls on Jones for the cover.
ONE!
TWO!
NO!
Jim Gunt: These two are taking it too each other right now, what's it going to take to put the other away?
Mike Rolash: Maybe Duce'll pass out like he did against Fuller..
With Jones still down, Freddie pops to his feet and races towards the ropes, springing off of the second one and connects with a moonsault, he stays on top for the pin.
ONE!
TWO!
KICKOUT!
Robbins shows Freddie two fingers, he nods in recognition before getting back to his feet. Bringing Jones up with him, Freddie looks to lift Jones up onto his shoulders but Duce wiggles down his back and spikes him with a Half & Half Sulex! Freddie flips over to his knees before crashing back to the mat, Jones laying there as well, appearing to be spent.
Ray Douglas: Ten minutes elapsed! Twenty minutes remaining!
Both men continue to lie on the mat as Robbins checks on them. Duce shoves Robbins out of the way as he gets back vertical. Snaring Styles from the mat, Jones hooks him for a suplex. Duce goes to lift him but Styles blocks it, now it's Styles who attempts a duplex but Jones blocks it this time, forcing Freddie to back towards the ropes a bit. Duce attempts the suplex again and Freddie blocks once more, Styles tries his attempt again, getting Duce up but he wiggles his leg and both men go stumbling into the ropes and over the top, crashing to the floor!
Jim Gunt: Oh My Lord! The Ace's may have been injured just then!
Mike Rolash: Oh… no…
The Cancun fans are enjoying every minute of it, bullhorns, trumpets and clappers along with cheers ring out! The Aces are down but not out as they get to their knees and begin to slug it out, fighting all the way up to their feet. Freddie has the upper hand in the encounter, causing Jones to try and retreat back in the ring but Freddie's having none of it, yanking him back outside and stinging him with another chop. Duce fires back with a forearm but Styles comes right back with a punch that dazes Jones. Styles goes to slide in the ring and now it's Jones who pulls him back out. And the two men forget all about friendship as they begin to slug it out inciting a huge reaction from the fans.
Jim Gunt: These two are slugging it out like heated foes right now.
Mike Rolash: I love it when a plan comes together!
Jim Gunt: What plan?
Mike Rolash: Ugh… nevermind..
Trent is up to nine on his count and both men stop fighting and slide inside of the ring at the same exact moment, breaking Robbins' count yet again. Freddie is first to his feet, twisting towards a rising Jones, looking for the Ballgame. Duce dodges out of the way, standing behind Styles, he crosses Freddie's arm across his own chest and ripcords him out, then pulls him in for a headbutt. Styles ducks underneath with a standing switch and shoves Duce into the ropes. Jones twists around Styles and now has him going into the ropes, pulling him back for an O'Connor roll, pinning his shoulders to the mat..
ONE!
TWO!
Freddie quickly reverse it into a german Suplex hold, now having Jones' shoulders pinned to the mat!
ONE!
TWO!
THREE!
Robbins signals for the bell as both Duce and Freddie have a shocked expression on their faces..
Jim Gunt: FREDDIE'S GOING TO GENESIS FOR A SHOT AT THE CWF WORLD CHAMPIONSHIP!
Mike Rolash: FUCK YEAH!
Freddie sits up but gets to a vertical base as Duce does the same. Robbins raises Styles arm in victory as Duce gives Freddie a death stare.
Jim Gunt: What a match we've just witnessed and tonight, Freddie proved to be the better Ace. Thank you for joining us ladies and gentlemen, please join us next week when we present to you Evolution 72 LIVE from Palacio de los Deportes in Mexico City, Mexico with the final matches of the Omega Block!
Mike Rolash: I'm celebrating all week!
Jim Gunt: Good night everyone..
We cut back to the ring where Duce still looks over at Freddie menancingly, walking towards him and Robbins, he snatches Freddie's arm away from him. The fans grow quiet for the first time for the entire evening as the Aces have an intense stareoff, until Duce smiles and raises Freddie's arm himself in victory. "Ali Bomaye" by The Game begins to play as the crowd goes nuts and the scene fades to black.
Results compiled and archived with the Efed Management Suite
---